Theories
http://lionking.wikia.com/wiki/User:Suereberew TLK Theories I believe I believe:
Scar fathered Vitani
Scar fathered Mheetu
Scar fathered Kula
Ahadi was golden with a black AND red mane(and green eyes+outlander qualities)
Uru was of dark fur and pridelander qualities
Kula and Chumvi parented Afua
TLK Theories I DO NOT believe:
Tojo/Chumvi was Vitani father
Zira was the sister of Scar and Mufasa
Tama mothered Vitani/Vitani and Kovu
Kopa was murdered by Zira
kopa was murdered by another outlander
Kopa ran away
Kopa exist alongside Kiara
Vitani and Kopa were together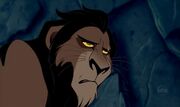 Other stuff:
Nala's eyes are blue NOT green and nothing with convince me otherwise. Not even that stupid link everyone gives me that i've ALREADY DISPROVEN. Knock it off. Lighting has nothing to do with anything. Her eyes do randomly change from green to gray blue even DURING THE NIGHT SCENES, so enough of that bull.
https://cleverbot.com/ http://www.fanfiction.net/s/6661908/2/Honor_Comes_from_Blood http://www.animationsource.org/sites_content/lion_king/img_screenshot/18806.png
Personality Tests and what-not
Virtue - Fire people exhibit righteousness. These people conform to the standard of moral law. They do what is right and are known for their sense of fair play. They are truthful, straight-forward, just, upright and virtuous in their dealings with other men.
Core - They demonstrate courage, fortitude, zeal and pugnacity. They have the mental and moral strength that enables them to venture into unknown waters and to persevere and withstand danger. They seldom show fear and are confident in their actions. They have mettle, resolution, and tenacity. They can face danger or difficulty without flinching or retreating. They will fight for their principles and have a stubborn persistence that is unwilling to recognize defeat. They have grit, back bone, guts, and are willing to keep fighting under all odds. They are aggressive and thrive on challenge.
Nature - Their essential characteristic qualities are liveliness, energy, ardor, enthusiasm, courage and action. They have a firm, courageous and assertive disposition which is their most characteristic quality.
Drives - These people like to win or be the best in anything they pursue. Their aggressive nature makes them just one big ego. There is nothing more stimulating to them than to win, and there is nothing more depressing to their ego than to lose. They strive to be the center of attention and are at home when showing-off.
Vice - They are determined, spiteful and revengeful. When angered, they will go to almost any extreme necessary to get revenge, and that revenge will more often be at the moment of the anger. When they're mad they want everyone around them to be mad. They are spiteful and will deliberately and openly do things which irritate someone to the point of anger. They are very short-tempered and anger easily. They are straight-forward and have no reservations about hurting the feelings of others, and they are prone to inflict physical pain as well as mental pain. Just as the main virtue of this sign is being just and right, its main fault is deceit.
Your spirit animal is the Mighty Lion. Combining the best of strength, speed, ferociousness, and wisdom, the lion is second to none, and has not earned the title King of the Jungle for no reason. They only guard over the most noble and respectable individuals. Congratulations, you are truly unique. Very few people are as blessed as you. Expect to accomplish amazing and wonderful things in your life, as well as inspire and bless all those who are lucky enough to meet you.
***Wondering how this animal was chosen for you? These questions were carefully thought out to see how important you hold certain virtues such as: humanism, self-knowledge, rationalism, the love of freedom and other somewhat Hellenic ideals. Some of the questions were very subtle. Your score was then matched with an animal of corresponding nobility. However, you shouldn't think this was a right/wrong sort of test, but more of an idealistic values test. It's ok to not hold these values, you'll just get an animal spirit of lower stature if you do!***

You know how to handle about half of the scenarios, which makes you quite a resourceful person. You might have made a few fatal choices, but the right choices certaintly outweigh those. You would be a decent addition to a group of travellers that could be faced with extreme situations.
If you are wondering how you can find out answers to most of the questions from this test, you can find them online if you search for them. If you liked my test please rate it highly below, and feel free to send me feedback. Thanks!*Predominantly heterosexual, only incidentally homosexual. You're in the grey area. You may be a bit more comfortable with your sexuality, and who knows, if someone of the same sex came onto you hardcore, if you've got enough drinks in you, who knows what could happen. Chances are though that you'll basically stick to your hetero roots, and dont really mind being around gay people.
Congratulations, you weren't horribly disfigured in the transformation from inside beauty to out. You are like a majority of women, or people in fact, you are a little self-centered but overall an all right and caring person. But be careful, or you may find yourself as an Ugly Harpy, or even one of the lowliest Hideous Medusas. However, stay on the track you are on and you might grow into one of the unrivaled beauties.
Discipline is the act of enduring that which you don't dig ("the shit"), even though you could be doing something else more fun, because the shit is better for you in the long run. And you? You are remarkable. You can endure a lot of the shit, sometimes self-imposed. All 7 virtues are a part of you, but your discipline runs deepest.
Discipline is the key to success. In the picture above, the climber is finally having fun and unwinding, after a life of preparation.
Disciplined famous people: Ghandi, Jesus, Hitler
Your raw relative scores follow. 0% is low, and 100% is perfect, nearly impossible. Note that I pitted the virtues against each other, so in some way these are relative scores. It's impossible to score high on all of them, and a low score on one is just relatively low compared to the other virtues.
       YOUR VIRTUES

       30% Compassion

       33% Intelligence

       25% Humility

       56% Honesty

       63% Discipline

       29% Courage

       50% Passion 

Achievers are energetic, optimistic, self-assured, and goal oriented.
How to Get Along with Me
• Leave me alone when I am doing my work.
• Give me honest, but not unduly critical or judgmental, feedback.
• Help me keep my environment harmonious and peaceful.
• Don't burden me with negative emotions.
• Tell me you like being around me.
• Tell me when you're proud of me or my accomplishments.
What I Like About Being a THREE
• being optimistic, friendly, and upbeat
• providing well for my family
• being able to recover quickly from setbacks and to charge ahead to the next challenge
• staying informed, knowing what's going on
• being competent and able to get things to work efficiently
• being able to motivate people
What's Hard About Being a THREE
• having to put up with inefficiency and incompetence
• the fear on not being -- or of not being seen as -- successful
• comparing myself to people who do things better
• struggling to hang on to my success
• putting on facades in order to impress people
• always being "on." It's exhausting.
THREEs as Children Often
• work hard to receive appreciation for their accomplishments
• are well liked by other children and by adults
• are among the most capable and responsible children in their class or school
• are active in school government and clubs or are quietly busy working on their own projects
THREEs as Parents
• are consistent, dependable, and loyal
• struggle between wanting to spend time with their children and wanting to get more work done
• expect their children to be responsible and organized
You like things silly, immediate, and, above all, outrageous. Ixne on the subtle word play, more testicles on fire, please. People like you are the most likely to RECEIVE internet forwards--and also the most likely to save them in a special folder entitled 'HOLY SHIT'.
Because it's so easily appreciated, and often wacky and physical, your sense of humor never ceases to amuse your friends. Most realize that there's a sly intelligence and a knowing wink to your tastes. Your sense of humor could be called 'anti-pretentious'--but paradoxically enough, that indicates you're smarter than most.
You are the Brute! You are introverted, arrogant, brutal, and more intuitive than rational. Like a big, dumb animal, you are driven by your emotions more than your reason, and as a result of the fact that you care very little for the feelings of others, you tend to be rather selfish. You also possibly fling your own poo. Because of your selfishness, you also tend to be a bit arrogant, seeing yourself as big or strong or smart or always correct. This makes you a stubborn, irrational, emotion-driven brute. King Kong best represents the gorilla-version of your personality. Emotional, introverted (King Kong was isolated on his own island, after all), brutal, and arrogant (proud to be the largest ape on Earth!), Kong would probably get along very well with you, seeing as how you share many of the same traits. Aside from, you know, all the fur. You probably keep to yourself and take great pleasure in watching fat people fall down stairs. (But who doesn't, really?) You probably also have dreams of becoming famous or well-known, but this most likely won't happen because your introversion limits your Hollywood connections. Being introverted, ape-like, and arrogant isn't so bad, though. It beats being dead. So your personality defect is simply that you act like a large, overgrown ape that thinks highly of itself whilst brutalizing buxom blondes. Or something.
Try to stay off of buildings.

Paris Hilton hates Nicole Richie. Lex Luther hates Superman. Garfield hates Mondays.But none these even rates against the insurmountable hate, people have for you.
I mean, you're pretty damn clever and you know it. You love to flaunt your potential. Heard the word "arrogant" lately? How about "jerk?" Or perhaps they only say that behind your back.
That's right. I know I can say this cause you're not going to cry. You're not exactly the most emotional person. You'd rather spend time with your theoretical questions and abstract theories than with other people.
Ever been kissed? Ever even been on a date? Trust me, your inflated ego is a complete turnoff with the opposite sex and I am telling you, you're not that great with relationships as it is. You're never going to be a dude or chick magnet, purely because you're more concerned with yourself than others. Meh. They all hate you already anyway.
How about this- "stubborn?" Hrm? Heard that lately? All those facts which don't fit your theories must just be wrong, right? I mean, really, the vast amounts of time you spend with your head in the clouds...you're just plain strange.
You have a pretty good chance of surviving an undead epidemic. You're capable enough when it comes to killing and staying alive, your ability to lead and organize others is high enough to keep the group in relative safety, and you can handle most of the mental requirements for just such a scenario. Estimated Survival Time: 1 Month" - So I may not be the easiest person to get along with or talk to but when it comes to keeping you from being raped by Zombies, I am made of Win.
Based on your family, money, political context, and personal situation -- during the important years of your development -- it appears your life was DIFFICULT. What does this mean?
Well, the "difficulty" of your life is a measure of how rough you had it. Relative to the world, you had a very, very difficult childhood. I'm not sure what "success" means to you, but whatever it is, you can achieve it. When you do, it'll be that much more impressive.
Social Liberal (66% permissive)

and an...
Economic Liberal (36% permissive)

You are best described as a:

Democrat

You exhibit a very well-developed sense of Right and Wrong and believe in economic fairness.
Horny. Stubborn. Kinda cute. Slightly immature. And often found on rough terrain. You are The Billy Goat.
You're lusty, but typically monogamous, and all in all you're a pretty good boyfriend. In fact, you enjoy relationships, if mostly for the sex and physical companionship. You'd do or say almost anything to get together with someone, but that's not necessarily a bad thing.
You're sensitive, you have a certain boyish charm, and you're eager. Therefore you probably attract girls who are serious about romance. But few who get close to you realize how unready for total commitment you are. People fall for you. Meanwhile, you maintain your emotional distance, and there goes another box of tissues.
You're perfectly capable of a long-haul relationship, but, right now, dating someone primarily means having a consistent, available, preferably not-too-chatty, hookup. You're a careful, methodical person, and you work hard at making things work. It's just that the type of woman most likely to find your strengths endearing is also the most likely type to find your shortcomings heartbreaking. Someone with a similarly laid-back approach to dating would be perfect for you.
You are hard to please. You are highly selective of females, showing not even a marginal interest in marginal women. Of the 21 women I showed you, 7 to 9 were satisfactory, meaning you have standards that are tighter than average. It is likely that in your everyday life you're not much of a gawker or whistler, and -- I'm going out on a limb here -- you don't sleep with hookers.
You are more likely to choose a woman by her face than her body.
Test results are categorized into 8 levels of pickiness, as the graph to the right shows. You are the #3, third most critical, test taker.
As an experiment, you might try the test late at night, under the influence of alcohol.
Template
Name
Meaning
Gender
Species
Affiliation(s)
Appearances
Voice Actors
Close Relations
Name
Species
Canonity
Gender
Relations
Box
Featured Articles
| | |
| --- | --- |
| Bhati is a bat-eared fox character who was deleted during early production of The Lion King, when initially titled as King of the Jungle. She was written as Simba and Nala's "wisecracking" childhood friend, though it has been misconceived that she was to be Mufasa's majordomo before being replaced by Zazu. In most of her concept sketches, she has sandy-yellow fur and a black tail, ears, and paws. However, the newly-released concepts detail her with a reddish-brown pelt, yellow eyes, and freckles, as well as a white underbelly and tail-tip. | |
| | |
| --- | --- |
| Bhati is a bat-eared fox character who was deleted during early production of The Lion King, when initially titled as King of the Jungle. She was written as Simba and Nala's "wisecracking" childhood friend, though it has been misconceived that she was to be Mufasa's majordomo before being replaced by Zazu. In most of her concept sketches, she has sandy-yellow fur and a black tail, ears, and paws. However, the newly-released concepts detail her with a reddish-brown pelt, yellow eyes, and freckles, as well as a white underbelly and tail-tip. | |