This Land (Score)


General Information
Composer
Released

May 31, 1994

Track

6

Length

2:55

Usage Information
Album
Appearances
Sample
Versions
"This Land (Score)" is a musical piece composed by Hans Zimmer for The Lion King. It is a combination of the underscore that plays during the rainstorm and the underscore that plays when Simba encounters Mufasa's ghost.
Overview
The original motion picture soundtrack for The Lion King was released on May 31, 1994. "This Land (Score)" was one of four scores included in the release, including "...To Die For (Score)", "Under the Stars (Score)", and "King of Pride Rock (Score)". Shortly after the release of the original motion picture soundtrack, the complete film score was published, though it was retracted after one day. In its brief release, the underscores that comprised "This Land (Score)" could be heard in two separate tracks, "What Am I Going To Do? - Sunrise At Pride Rock" and "Mufasa's Ghost". On June 24, 2014, The Legacy Collection: The Lion King was released, with "This Land (Score)" having been split into two tracks, "We Are All Connected" and "Remember Who You Are".
In the stage musical, the early section of score from "This Land (Score)" – the rainstorm – is titled "Pridelands", while the latter part of the track – when Simba encounters his father's ghost – is called "Pool Reveal". Certain parts of the score are cut in the stage musical. These sections are instead replaced with portions of the "He Lives in You" musical number.
Use
Unlike the other scores in the original motion picture soundtrack, "This Land (Score)" is comprised of two separate scenes that are unrelated to one another. The first scene comes early in the film, just before Rafiki is seen painting Simba. The score picks up at the start of the rainstorm and carries through until just before Rafiki's appearance.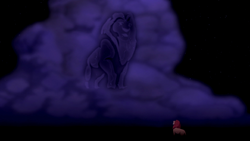 At this point, the score shifts to the scene where Simba encounters Mufasa's ghost. The score plays through his interaction with his father's spirit, and carries through to his follow-up conversation with Rafiki. The score ends with the musical flourish heard as Simba resolves to return to the Pride Lands amid Rafiki's cheers of encouragement and joy.

Ad blocker interference detected!
Wikia is a free-to-use site that makes money from advertising. We have a modified experience for viewers using ad blockers

Wikia is not accessible if you've made further modifications. Remove the custom ad blocker rule(s) and the page will load as expected.