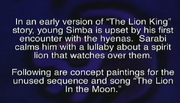 "The Lion in the Moon" was a deleted song that was supposed to be sung by Sarabi to Simba after he and Nala escape the hyenas. [1] Sarabi calms her son with a lullaby about a spirit that watches over them. This song is a tender lullaby version of "Circle of Life." [2]
Pre-lullaby
Mufasa takes his son home. Simba, ready for sleep, has hyenas on his mind and Sarabi gets him to quiet down. Then, in the distance, he ears a hyena's yips. He jumps up, on guard. Sarabi reassures Simba that he has nothing to fear.[3]
Lyrics
None Available
Trivia
Gallery
References
Ad blocker interference detected!
Wikia is a free-to-use site that makes money from advertising. We have a modified experience for viewers using ad blockers

Wikia is not accessible if you've made further modifications. Remove the custom ad blocker rule(s) and the page will load as expected.