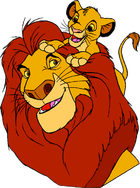 Welcome to
The Lion King Wikia!
The Lion King Wikia currently has 971 articles since its opening on October 27, 2005.
Spoilers are to be expected.
You have been warned.
Rules



Guidelines

Please do not add fan-related material to the articles.
Please use correct grammar and spelling.
When posting on a talk page, please put ~~~~ at the end of your message.
Please keep your language clean.
If you need help from an active administrator, head over to the community portal.
If you need to use a template, go to the templates page.
Before editing, please read over the full set of rules.



Exploring the Wiki
Did you Know?
Featured Articles
| | |
| --- | --- |
| Timon's Father is a deleted character who was set to appear in The Lion King 1½. In a short deleted scene, Timon joins his father, who is on sentry duty. He asks his father why the colony has to dig tunnels, and his father replies, "Look out to the horizon. Everything the light touches...belongs to someone else." Timon's father then proceeds to warn his son against the dangers of the outside world. This scene is very brief, and according to director Bradley Raymond, Timon's father was deleted from the movie because they felt there were too many characters in the story. His lines were instead transferred to Ma. | |
---
| | |
| --- | --- |
| Aaron Blaise is an animator whose contributions to animation have included several Disney leading or title characters, such as young Nala from The Lion King. This film was initially difficult for Blaise, who found animating animals to be tricky. He got much inspiration, however, from live animals brought to the studio for the animators' purposes. "I didn't take any of the Africa trips for that film," explains Blaise. "We did all of our locomotion studies at the studio. Young and adult lions were brought in for us to sketch. It was lots of fun and proved to be a huge asset to both the design and animation processes." | |
---
| | |
| --- | --- |
| Mokele Mbembe is a legendary creature who is the center of The Lion King comic Mokele Mbembe. As Simba and Rafiki are journeying to the jungle to visit Rafiki's relatives, Simba asks Rafiki to tell him the story of Mokele Mbembe. Rafiki tells Simba that the Mokele was a legendary creature that was supposedly "smarter than the smartest elephant, stronger than the strongest hippo, and faster than the fastest cheetah." Simba asks Rafiki whether the creature exists, but Rafiki tells him that no one knows for sure. | |
Featured Video



An alternate end to The Lion King

Added by

Honeyfur
Featured Poll
Q: If another movie was made, who would you want the main character to be?

 
Picture of the Week
Participate
This community needs your help to grow! Please check the
help
page first!
To
add a new page
, enter the page title in the box below:
Alternatively, you may try out editing in our sandbox.
Information