Welcome to The Lion King Wikia!
Welcome to The Lion King Wikia, a collaborative database for everything related to The Lion King franchise: films, television series, books, comics, and more. Anyone can edit our site so long as they work in abidance with our rules. Together, we work to create the best comprehensive encyclopedia for The Lion King franchise.
Explore the Wiki
Films
Voice Actors
Books

The Lion King: Six New Adventures • The Brightest Star • More

Comics
Songs

"Circle of Life" • "I Just Can't Wait to be King" • "Be Prepared" • More

Scores

"This Land" • "...To Die For" • "King of Pride Rock" • More

Original Characters
Other Characters
Featured Articles
| | |
| --- | --- |
| Kijana is a female jackal. She is the daughter of Goigoi and Reirei, and the sister of Dogo. Kijana and her family attack a herd of zebras. While Kijana's mother, Reirei, leads an attack against the bulk of the herd, Kijana and her brother, Dogo, separate a young colt named Hamu from the rest of the zebras. While Kijana hides in the brush, Dogo feigns friendliness to Hamu and convinces the young colt to stop running away. As Dogo continues to sweet-talk Hamu, Kijana sneaks up from behind, but is disrupted by Ono, who warns Hamu of the danger. | |
---
| | |
| --- | --- |
| The Lion King (Original Motion Picture Soundtrack) is the original motion picture soundtrack for Walt Disney Picture's The Lion King. It contains songs from the film written by Elton John and Tim Rice, and a score composed by Hans Zimmer with African chants by Lebo M. The soundtrack was recorded in three different countries: the United States, the United Kingdom, and South Africa, and was released on May 31, 1994 on CD and audio cassette. It holds the record as the best-selling successful soundtrack for an animated movie with over 7 million copies sold; 4,934,000 copies of which were sold in 1994. | |
---
| | |
| --- | --- |
| Aardwolves are a species of animal native to the Pride Lands. They are nocturnal animals who feed on termites and are preyed upon by jackals. Aardwolves are reserved, shy creatures that only emerge at night to feed on termites. They are essential to keeping the termite population in check in the Pride Lands, despite rarely being seen. Aardwolves tend to roam from place to place, preferring the shelter of empty aardvark dens for sleep. | |
Poll
Who is your favorite villain?
Picture of the Week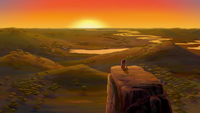 Sunrise over the Pride Lands
Quote of the Week
"

Hey, hey, Beshte! Maybe you could hold still a second?
—Chungu

"
Ad blocker interference detected!
Wikia is a free-to-use site that makes money from advertising. We have a modified experience for viewers using ad blockers

Wikia is not accessible if you've made further modifications. Remove the custom ad blocker rule(s) and the page will load as expected.