Welcome to The Lion King Wikia!
Welcome to The Lion King Wikia, a collaborative database for everything related to The Lion King franchise: films, television series, books, comics, and more. Anyone can edit our site so long as they work in abidance with our rules. Together, we work to create the best comprehensive encyclopedia for The Lion King franchise.
Explore the Wiki
Films
Voice Actors
Books

The Lion King: Six New Adventures • The Brightest Star • More

Comics
Songs

"Circle of Life" • "I Just Can't Wait to be King" • "Be Prepared" • More

Scores

"This Land" • "...To Die For" • "King of Pride Rock" • More

Original Characters
Other Characters
Featured Articles
| | |
| --- | --- |
| Bartholomew is a monster who makes his first and only appearance in the Timon & Pumbaa episode "Shake Your Djibouti". He becomes friends with Timon and Pumbaa after escaping from his creator's laboratory. His story begins when he, in a vicious display of carnage and monstrosity, breaks his way out of Dr. Happy's lab. This prompts the mad scientist's loyal pooch to report to his master about the monster's successful escape attempt. | |
---
| | |
| --- | --- |
| A King for the Frogs is a story from the Rafiki Remembers magazine collection. It was published in the 1990s as part of The Lion King: A Nature Fun and Learn Series. The story opens as a large group of frogs becomes so disruptive and noisy that an older frog gathers the group together and proclaims that they make themselves a grand king. With the group's consent, the wise frog asks one of the gods to promote a king over their lake. In answer to the wise frog's prayer, the god throws a rock into the midst of the lake. | |
---
| | |
| --- | --- |
| The Zimwi is a legendary creature that roams the Pride Lands on the night of the full moon. When Rafiki tells a group of young animals a story about the Zimwi, the young ones inadvertently spread false rumors that the creature has been seen in the Pride Lands. The Lion Guard sets out to put a stop to the beast, but their fear leads them to mistake two young porcupines for the Zimwi. The matter is soon cleared up, and the Lion Guard realizes that the Zimwi was never truly a danger to them. | |
Poll
Who is your favorite couple?
Picture of the Week
Timon and Pumbaa run from the stampede
Quote of the Week
"

These lands belong to Scar!
—Zira

"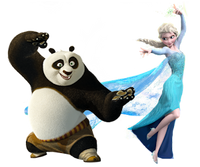 Ad blocker interference detected!
Wikia is a free-to-use site that makes money from advertising. We have a modified experience for viewers using ad blockers

Wikia is not accessible if you've made further modifications. Remove the custom ad blocker rule(s) and the page will load as expected.