Welcome to The Lion King Wikia!
Welcome to The Lion King Wikia, a collaborative database for everything related to The Lion King franchise: films, television series, books, comics, and more. Anyone can edit our site so long as they work in abidance with our rules. Together, we work to create the best comprehensive encyclopedia for The Lion King franchise.
Explore the Wiki
Films
Voice Actors
Books

The Lion King: Six New Adventures • The Brightest Star • More

Comics
Songs

"Circle of Life" • "I Just Can't Wait to be King" • "Be Prepared" • More

Scores

"This Land" • "...To Die For" • "King of Pride Rock" • More

Original Characters
Other Characters
Featured Articles
| | |
| --- | --- |
| Tojo is a lion cub. Tojo is one of the cubs who listens to Mufasa as he talks about the Great Spirit. Tojo doesn't seem to believe too strongly in the Great Spirit and says that he doesn't watch over him well, since he gets injured quite a bit and has a sprained ankle. Simba suggests that maybe the Great Spirit has a purpose for Tojo's injury. Later, Simba becomes the "mother" of orphaned blue birds because he takes care of them. Tojo meets up with Simba and begins making wings out of leaves to teach the birds how to fly. Simba leaves Tojo alone with the birds while Tojo is preparing the wings. | |
---
| | |
| --- | --- |
| Alex Cartañá is an actress and singer-songwriter who voices Twiga from The Lion Guard. Despite being born in England, Cartañá spent much of her childhood in Spain. She learned English and Spanish during her years in school, as she spent time in both English and Spanish educational systems. She also knows a third language, Catalan. Cartañá spent her first year in college at the University of Greenwich, though she transferred to the University of Westminster for her second year, graduating in 2002. | |
---
| | |
| --- | --- |
| Mulungu is a god of Africa. Long ago, all the birds were snow-white in color and longed to be as colorful as the flowers. They prayed to the great god Mulungu, who descended to earth with brushes and paints. He told the birds to form a line and wait their turn to be painted while he gave each their own colorful plumage. At first, the queue formed accordingly, and Mulungu began to give each bird its own plumage. Then an impatient bird named Che Mlanda cut the queue and demanded that Mulungu paint him next. | |
Participate
This community needs your help to grow! Please check the
help
page first!
To add a new page, enter the page title in the box below:

Alternatively, you may try out editing in our
sandbox
.
Poll
Are you excited for the remake?
Picture of the Week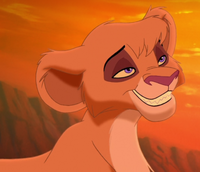 Vitani as a cub
Quote of the Week
"

Scar, there is no food. The herds have moved on.
—Sarabi

"