Welcome to The Lion King Wikia!
Welcome to The Lion King Wikia, a collaborative database for everything related to The Lion King franchise: films, television series, books, comics, and more. Anyone can edit our site so long as they work in abidance with our rules. Together, we work to create the best comprehensive encyclopedia for The Lion King franchise.
Explore the Wiki
Films
Voice Actors
Books

The Lion King: Six New Adventures • The Brightest Star • More

Comics
Songs

"Circle of Life" • "I Just Can't Wait to be King" • "Be Prepared" • More

Scores

"This Land" • "...To Die For" • "King of Pride Rock" • More

Original Characters
Other Characters
Featured Articles
| | |
| --- | --- |
| Bahuka is a tiki statue who makes his first and only appearance in the Timon & Pumbaa episode "Oahu Wahoo". Following an island campfire gone wrong, Bahuka springs out of the flames of Timon's dinner and announces himself as Bahuka, Lord of the Volcano. His booming voice takes a sudden turn, and he steams at Timon in a high-pitched nasal whine, blaming him for awakening him from eons of slumber. He then demands Timon pass the "Twelve Tests of Bahuka" as compensation for his rude awakening. | |
---
| | |
| --- | --- |
| A Great Team is a comic inspired by The Lion King. It was published on August 10, 2004, by Ehapa Verlag in Germany. While playing with his friends, the devious prince of Pride Rock, Simba, challenges the others to competitions that he knows he can win. First, he challenges Rhino to jump across a gorge. Then he pits himself against Zebra in a climbing competition. Finally, he streaks ahead of Crocodile in a foot race. As the competitions come to a close, with Simba having won every game, the young animals come together and complain about how he is cheating the system to ensure his victories. | |
---
| | |
| --- | --- |
| The Theluji Mountains is a range of mountains on the border of the Pride Lands. The Lion Guard meets Hafifu and Majinuni, the princes of the Theluji Mountains, who proclaim that they have an important message for Simba from their father, Sokwe. The Lion Guard leads the gorillas to Pride Rock, where Kion relates the situation to Simba. To Kion's surprise, Simba agrees that the message is important and explains that every wet season, King Sokwe informs Simba if their two kinds are still at peace or not. | |
Poll
Who is your favorite villain?
Picture of the Week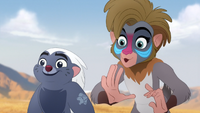 Bunga and Makini

Ad blocker interference detected!
Wikia is a free-to-use site that makes money from advertising. We have a modified experience for viewers using ad blockers

Wikia is not accessible if you've made further modifications. Remove the custom ad blocker rule(s) and the page will load as expected.