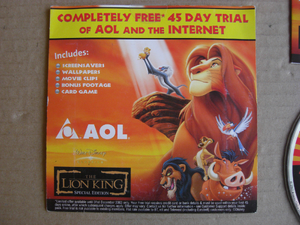 The Lion King is a promotional CD-ROM released in 2003 used to install AOL and to promote the Special Edition release of The Lion King. It is one of the rarest software CDs in existence, and is only released in the UK.
Information
Main Menu
Free 45 Day AOL Trial
Clicking it installs AOL on your computer and gives you a free 45 day AOL trial.
Note: According to the cover artwork, it is free until the date of 31 December 2003.
Browse The Lion King Content
Characters: Views profiles on the characters, the voice actors, and information about the animals the characters are based on.
Movie Clips: Views trailers for The Lion King: Special Edition, The Lion King 3: Hakuna Matata, Finding Nemo and Brother Bear.
Competition: Allows you to enter a competition where you could win a DVD of The Lion King: Special Edition by simply asking a question.
Wallpapers: Allows you to download wallpapers based on scenes from the movie.
Screensavers: Allows you to download screensavers based on scenes from the movie.
Pairs Game: Plays a game of pairs.
Gallery
Videos
Ad blocker interference detected!
Wikia is a free-to-use site that makes money from advertising. We have a modified experience for viewers using ad blockers

Wikia is not accessible if you've made further modifications. Remove the custom ad blocker rule(s) and the page will load as expected.