Tesma


Physical Attributes
Gender

Female

Species
Biographical Information
Affiliations
Familial Information
Family

Timon (mate)
Unnamed children
"

What's da matter, don't we taste no good?
―Tesma to Simba

"
Tesma is a meerkat who was set to appear in The Lion King when it was initially titled King of the Jungle. She is the mate of Timon.
Biography
Backstory
Tesma is a meerkat who lived during the reign of Scar. While living in her colony, she became the mate of Timon and reared children with him.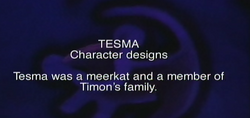 When Simba is exiled from the Ndona Pride, he encounters Tesma and her family. The meerkats at first aren't sure what to make of him, and when Simba denies eating meerkats, Tesma asks whether or not they taste good to lions. Finally, the colony concedes to letting Simba stay, and the young lion takes up residence with the wary but friendly meerkats.
Physical appearance
Based on her concept art, Tesma has a large body, droopy eyes, and a snout nose. Her colored concept art shows her with pale tan fur.
Trivia
Gallery
Click here to view the rest of the gallery.
References