Talk:Ahadi
935pages on
this wiki
This is the talk page for discussing improvements to the Ahadi article.
This is not a forum for general discussion about the article's subject.

Be polite.
Assume good faith.
No personal attacks.
Do not bite the newcomers.
Respond in a mature manner.
Be welcoming.
Maintain civility at all times.
Description
Ahadi's fur color is never mentioned and he is obviously darker than Mufasa, why do keep putting those lies in his description? IT doesn't have to sound better, it needs to be true.TrueKingNuka 16:04, March 12, 2011 (UTC)TrueKingNuka
dont be so dramatic by calling them "lies". and anyway we have a quote --Razzas
Uh...so? What the quote tell us? Nothing. TrueKingNuka is right, those ARE lies. Mufasa and Ahadi are not identical in color and the text never mentions his color. I have the book, I know.Werebereus 17:09, March 14, 2011 (UTC)Werebereus
Whoa, timeout. I have the book, too, and I was the one who added the quote. It's easy to take out the dark-furred part, but the wording sounds better the way it was originally. Chill out. xD --

Honeyfur

Bob's Your Uncle!

18:43, March 14, 2011 (UTC)
Chill out Werebereus
I agree with Honeyfur. Calm down, they're fictional characters.
Dead?
How do you guys know Ahadi is dead? How do you know he didn't retire and then leave? Nowhere in the book does it say he's dead and the movie doesn't indicate anything either. The light that shines on Simba in his presentation? could've been Uru
I'm not completely sure if Ahadi died, but since the Uru and Mohatu page has them in the Category: Deceased Characters page, then the same for Ahadi. Also, since Mufasa is the king in the first movie, then something had to have happen to Ahadi in order for Mufasa to be king. User:Chris14 (talk) 20:48, 31 March 2011 (UTC)
Once again, how do you know he didn't retire? How do you know Uru is dead? Mohatu is actually SAID to be dead in the book. You guys saying he's dead is nothing but an assumption.Werebereus 22:47, March 31, 2011 (UTC)Werebereus
Well, monarchs don't "retire", but they can abdicate. Either way, you win this argument, there's no official proof that Ahadi or Uru died since it was never said, like Mohatu, that they died in the books they appeared in. It's just speculation. User:Chris14 (talk) 02:20, 1 April 2010 (UTC)
I have to say I'm mad right now. Why does Ahadi have chestnut eyes and a red mane when everyone who's read A Tale of Two Brothers knows he has a black mane and green eyes like Scar? How could they make a mistake like this? Sorry, this stuff just makes me this way. I need to find a way to remove/replace that picture so it will taunt me no more. Sandra Snowleopard 05:18, March 21, 2012 (UTC)
Alright. Let's Talk
Since HoneyFur is actually considering banning me for something petty even thought i perfected and pretty much created Wiki, found ALL of the interesting factoids, talked to the creators of the films themselves, found multiple unknown semi-canon characters and brought to light a plethora of obscure stories, ill sit down and talk before someone else does something stupid at my expense.
Problem: Ahadi's Bio and Personality Are the most incorrect things i've ever seen in my life. It is so heavily riddle with opinion and BS that's it's ridiculous.
Solution: Stick with the book. The book NEVER said ANYTHING about Ahadi having a "innocence of hearts". Just running off at the mouth with a bunch of NONSENSE than CANNOT be proven.Werebereus (talk) 00:25, March 21, 2013 (UTC)
The Breakdown
His Appearance
"Even for an adult lion, Ahadi is considerably large. His body, both sturdy and strong, sports broad shoulders, rounded muscles, and an expansive chest which extends outward with the added length of his mane."
There is no proof Ahadi is a large lion and -- in fact -- he appears to be SMALLER than Mufasa when Mufasa reaches adult size. Lions CAN outgrow their parents -- anyone who saw the movie "African Cats" can attest to this -- so that needs to be changed. Look here: http://i0.wp.com/screencaps.us/199/4-the-lion-king/full/lion-king-disneyscreencaps.com-248.jpg Rafiki (while standing up) only comes up to the bottom of Mufasa's mane. In the book, Rafiki comes to about the middle of Ahadi's mane which indicates Mufasa is the bigger male. Ahadi is probably just average and needs to be described as such.
"As far as coloring goes, Ahadi is noticeably darker than his fellow pride members. His main pelt, though lighter in undertones, is distinctly dark, being a dirty gold, almost brown, as opposed to the paler hues of his pride mates. His mane, however, is lush and red, expanding down his chest and nearly reaching his middle underbelly. While his chest, muzzle, and paws are all sandy in color, his eyeshades are darker than his main pelt, and his eyes are brownish-red."
Ahadi is not "darker" than his fellow pride members. He is only a few shades darker than Mufasa. He's GOLD.
Colors pulled from here: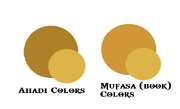 Anyone with an ounce of sense can see that illustrators of the book simply didn't have the fancy coloring materials the movie makers did -- they couldn't get the colors spot on. Ahadi is a darker, richer color gold than Mufasa is. His mane is NOT red nor are his eyes, despite what the illustration says. It simply isn't, and i'll get to why in a second.
"Interestingly, Ahadi is almost a perfect mixture of his two sons, Mufasa and Taka. Sharing both his build and his lighter hues with Ahadi, the elder inherited his father's golden fur, as well as his uncolored paws and reddish-brown eyes. Taka, on the other hand, shares his father's dark eyeshades, as well as the darker undertones of his pelt. Both sons mirror their father in facial structure, though this comes through more noticeably in Mufasa."
We've already discussed this -- Alex Simmons was the creator of everyone new in 6NA, so we should be taking his word over the mistake of some illustrator that apparently doesn't pay attention. Also, all books have to PUBLISHED before any illustrations are drawn up for this, THEREFORE the TEXT was around FIRST. That coupled with the latter reason should be enough to claim as FACT that Ahadi's mane is black and his eyes are green.
Oh, and Ahadi is not "perfect mixture" of his sons. That's your opinion honeyfur, and your opinion doesn't belong on a factual Wiki. Besides, anyone with eyes can see that Ahadi is pretty much identical to Mufasa. Mufasa's paws are NOT color-less and Scar's facial structure isn't mirrored in Ahadi AT ALL. The only thing Ahadi and Scar have in common is their mane and eyes. THATS IT. Oh, and there's nothing "interesting" about him looking like his sons. He's their dad, of COURSE their going to resemble him in some way.
"It should be noted that the text of A Tale of Two Brothers conflicts with the appearance described above, as the author depicts Ahadi as having a black mane and green eyes, as opposed to a red mane and reddish-brown eyes." <--- Needs to flipped or removed entirely.
Personality
The Wrongness in his personality made me sick and that fact that you all were buying this nonsense sickened me further. I can WAIT to pick this apart.
"Above all, Ahadi is a good leader. Complete with the determination, patience, and wisdom that makes up a sound ruler, he is not only respected by his family and friends, but also by his subjects and even those around him (Who ELSE would be around him. *facepalm*), some who have only known him for a choice number of days. Though he appears to be calm and in control, the king is more often than not bogged down by the duties required of him. However, he always follows through to the best of his ability, using his good judgment to sort out any situation that comes his way."
Ahadi is never described anywhere as being wise nor does he really act wise. In fact he seeks Wisdom of someone else because he has next to no clue what to do about the drought. Patience, yes, determination, questionable, respected by his subjects -- no proof, respected by his family -- only Mufasa. Relationship w/Uru unknown, the book says straight out that Taka DOESN't like him. Good Judgement? On what? Where? NO PROOF.

REMAKE "Ahadi is decent Lion King, doing all he can for the greater good to the best of his ability. He is calm, patient, but firm in his rule, shown when silences the squabbling of his angry subjects with a feirce roar. Despite all this though, Ahadi doesn't appear very wise and does little to fix the water problem, leaving the bulk of this to his mate Uru and seeking out the advice of a wizened old stranger. He promises to do something about the hyenas harassing his people, but is never shown following through on that promise."
"In addition, Ahadi is considerably (unneccesary word. There's NOTHING to consider, he's SAID to be brave) brave and strongb(redundant), being known throughout the land for his great dignity and power. Many opportunities arise throughout the king's reign for him to abuse this power, but, being a virtuous ruler, he refuses to do so, only exerting it for the benefit of his kingdom and his subjects. This practiced ease of control is a convenient means of maintaining order, considering he is an intimidating presence with an air of confidence about him, and often sorts out situations for him. Such a determined spirit to do good for his kingdom helps as well, even if these decisions mean the discontent of some of his subjects."
Many Opportunities? We only see this tiny portion of what his rule is like, so how could you speak for his entire reign? An nowhere is Ahadi described as Intimidating nor is anyone "intimidated" by him. Their only scarred when he's pissed off and screams at them, which he does alot.
Remake "Ahadi is said to be a Brave individual, one who has solved many crisis'. Not much can be said about his usage of power, but what we've seen so far suggest that the King is responsible and uses his powers to the benefit of his subjects instead of abusing it to his own ends. This in turn, benefits the kingdom as a whole, even if some subjects -- namely the hyenas -- are left unfulfilled or discontent."
"However, unlike his eldest son, Mufasa, who exhibits great force in his rule, Ahadi is known for being somewhat soft when it comes to the will of his subjects. Often taking the blame for problems, he frequently submits to the complaints of the Pridelanders, doing all in his power to make them happy again. Though this ultimately labels him compassionate and sympathetic, it also shows that he has a certain degree of weakness when it comes to pleasing others, as he feels it's completely his duty to see that everyone is content."
Where was this nonsense pulled from? Ahadi YELLS at various subjects when they try to overtalk him or attack his sons, and he NEVER takes the blame for ANY problems in the book. How could he? It's a DROUGHT. There's NOTHING HE CAN DO and he SAYS SO IN THE BOOK. The only person he is soft to is son Taka. Thats the ONLY ONE. EVER. Also, Mufasa does not exbhit "great force in his rule". The only force we see him exhibiting is when he goes and takes care of some hyenas. Thats IT.
Remake "When it comes to wills of his subjects, Ahadi will lend and ear but he will not tolerate being talked over and doesn't take the blame for problems that aren't his own. He caters to the complaints of the Pridelanders as best he can, but he does not submit himself to subordinates and ensures that all laws are obeyed, evident when he reprimands Shenzi and group for attempting to kill for sport, something not permitted in the pridelands."
"Such innocence of heart also comes into play in the king's relationships with his sons. In the same way he cowers, per se, to his subjects, Ahadi also somewhat cowers to his youngest son, Taka, by apologizing and taking the blame when he could, instead, reprimand the young lion for his selfish ways. Such behavior is most likely due to the fact that he cares deeply for his son and desires a trusting relationship with him, though Taka often makes the task difficult, as he pins Ahadi with the supposed favoritism the king shows his elder son, Mufasa. Ahadi, however upset by these accusations, never fails to acknowledge Taka's fantasies for what they are and even goes so far as to respect them, though he never submits to them, taking his duty as king beyond the need to satisfy his son."
Innocence of heart. Where. SHOW me. And once again, Ahadi cowers to NO ONE. He uses soft words to try and console his son, and even nuzzles the younger lion, but if he cowered to Taka then he would've submitted to him. He DIDN'T. He BROKE that promise. He's upset? When? Respects them? Where? Where is the PROOF? What are all these LIES?
Remake "Ahadi's firmness isn't limited to his subjects -- he refuses to submit to wills of his son Taka, even going so far as to break a promise made to lion to fix a bigger problem. He apologizes, lets Taka take that as he will, and moves on, mostly ignoring any and all animosity Taka throws his ways. Despite this, he does care deeply for Taka and is angered with Boma's heard when they almost kill his son. He is, though, angry with Taka as well for almost getting the both of them -- Mufasa and Himself -- killed."
"Ahadi's relationship with Mufasa is on much better terms, mostly due to the fact that the two seem to understand each other without speaking it plainly. Both lions have a sense of responsibility, as well as a need to do what's right, rendering them both natural leaders and dignified individuals. Because of this, Mufasa accepts his father's decisions for what they are, and Ahadi, in turn, feels gratitude toward his son for such understanding. The king also seems to trust Mufasa more than Taka, not only because of their tight bond, but also because his elder son shows stronger character than Taka, an important quality in a king."
No proof of that anywhere. Ahadi shows favoritism or inclination towards neither son, ever.
"Though Ahadi loves both his children dearly, he also understands that ruling a kingdom is a great responsibility and should, therefore, be taken seriously. Overruling his hesitance to disappoint, Ahadi ultimately recognizes this crucial, and somewhat disheartening, fact of being a leader. At the expense of his youngest son, Ahadi values the future of his kingdom, knowing full well that Mufasa will make a much better leader than Taka."
None whatso ever. NO hesitance.Werebereus (talk) 00:25, March 21, 2013 (UTC)
I hope you'll all take this into consideration, and fix the nonsense gleaming on Ahadi's page.Werebereus (talk) 00:25, March 21, 2013 (UTC)
A few comments in response to your accusations.

Size

The picture you have selected of Rafiki is oddly mushed, so I have selected a photo where he is at full stature. Take a look at this: [1]. In this photo, he comes up to Mufasa's chin, whereas in this photo ([2]) he comes up to, as you said, Ahadi's middle chest. Even if Ahadi was the same size as Mufasa (though he appears to be larger), he would still be abnormally large, for Mufasa himself outweighs his pridemates, and even Simba, by an ample amount.

He isn't STANDING at full stature in the picture w/Ahadi so a full stature picture tells me nothing. He is bent at the back -- i chose a similar picture.Werebereus (talk) 04:37, March 25, 2013 (UTC)
Coloring

The word used is "noticeably," not "extremely" or "way, way, way" darker; just noticeably. And he is noticeably darker, especially in the photo where he stands next to Mufasa. He is also described as dark gold, as you said, so I don't see what the problem is.

His fur color is NEVER described.Werebereus (talk) 04:37, March 25, 2013 (UTC)

Mixture of Sons

We can change this one up, as the points you made were valid, but Ahadi does resemble them both in different ways.
Book v. Picture

This description is lengthy because it is attached to an image. At the end of the paragraph, and at the top of the section in a quote, we credit Alex Simmons for Ahadi's true appearance. There are two differing images of Ahadi; that's just the way it is.

NO. Alex is the CREATOR of Ahadi and his description stands over any illustration that took place AFTER the book was published.Werebereus (talk) 04:37, March 25, 2013 (UTC)

Personality

Ahadi is patient, considering all he must deal with from Taka, the hyenas, and the clamoring Pridelanders, only losing his temper when the situation gets out of control. And yes, Ahadi is respected, as demonstrated by Mufasa, Rafiki, and Zuzu. I can provide quotes if you'd like. As for your remakes, they are just as opinionated as you insulted the firsts for being. This is all a matter of how other characters react to Ahadi; our own judgements don't matter.

Taka doesn't give him much, he does little about the hyenas anyway, and he YELLS at the pridelanders to be quiet. That doesn't sound patient at ALL. And that's only three people -- you said EVERYONE respected him, which is false.Werebereus (talk) 04:37, March 25, 2013 (UTC)

I would be willing to edit the page in various respects, but the article is honest, and I would rather not change it drastically just because your opinion conflicts with it. Each sentence can be backed up by a passage from the book. --Honeyfur Hakuna Matata 20:08, March 21, 2013 (UTC)

You aren't willing to edit it because you know you're wrong. The passage may be honest, but it's still incorrect and I SERIOUSLY doubt you can back any of that up with the little information about Ahadi that's even available.Werebereus (talk) 04:37, March 25, 2013 (UTC)
The passage describes the picture, and at the end, the bit about Alex Simmons is included. The article never promotes the picture as canon. --Honeyfur Hakuna Matata 15:13, March 25, 2013 (UTC)
Ahadi being "Mentioned" in Lion King
I have watched The Lion King a trillion (sarcastic, but may be true) times, but I do not remember hearing Ahadi (I might be wrong, I have the Collectors Gift Set, and I know in other versions of the movies they removed "Morning Report" which I have, etc). In what part was Ahadi mentioned? Kiara_M249 Asante sana, my squashed banana 17:41, May 13, 2013 (UTC)
       Oh I see, I thought he was mentioned dirrectly. Thank you.

Kiara_M249

Asante sana 20:05, May 13, 2013 (UTC)
Appearance, V2
Not going into the one above because it's far too long, and it's unsigned, so I have no idea who said what.
What is the official consensus on Ahadi's appearance? The book and illustration are at odds with one another and it seems that there is a bit of a revisionist battle going on with the appearance section. The book specifically mentions Ahadi having a "long, black mane and bright green eyes" although it stops description there, not describing the main colour of his pelt. Right now, it's going by the illustration rather than the text. Ggctuk (talk) 20:13, May 13, 2013 (UTC)
Both the illustration and the text are given descriptions, but the image takes up more space in the section, since it is mostly easier to describe (considering it can actually be viewed). There's a section at the bottom to distinguish the differences. --Honeyfur Hakuna Matata 00:46, May 14, 2013 (UTC)

That's not enough though. The article -- and honeyfur -- clearly favor the image and refuses to acknowledge what any anyone else favors. Plus Ahadi's personality is a bunch of unprobable BS. You've said you can prove every word you claim about Ahadi? Well, where is it? It's been months, and i haven't seen anything.Werebereus (talk) 18:39, June 27, 2013 (UTC)
I kept a lot of your edits. You need to accept the compromise. And I responded to your criticism quite some time ago. You can look further up the talk page for my replies. --Honeyfur Hakuna Matata 19:07, June 27, 2013 (UTC)
black
It says He has a black mane. (smallearstorm)
We've Said Already That Was A Mistake. TheNewGuy

Thats My Lullaby! 00:38, November 9, 2013 (UTC)