Swifty
Talk

3
933pages on
this wiki
Swifty
Name

Swifty/Plus-vite(French)

Meaning

Faster(Plus-vite)

Gender

Male

Species

Cheetah

Appearances

The Race

Close Relations

Friend and Rival of Simba, Friend of Timon and Pumbaa
"I'm Swifty. I'm the fastest animal in the region! Nobody can win a race against me!"
— A Mischevious Swift to Simba and his friends

Swifty is a cheetah Simba meets while in the Oasis, and yet another Character in the Hakuna Matata Book Series.
Personality
Swifty is described by Simba as Arrogant and by the text as Mischievous. Despite this though, he is likeable as he and Simba eventually become friends.
Appearance
Spotted Cheetah with red eyes, colorless paws, visible claws, and a scruffy 'mane' on the back of his neck. His eartips and tail-tip are white as well.
Information
In The Race
Simba: "You're not as fast as you say! I know many animals that are fast than you!"
Swifty: "Oh really? Still, it seems to me that im not as slow as a tiny meerkat and I'm sure I can run much faster than a fat Warthog...and without a doubt i'm faster than a small lion cub like you. You're so slow you couldn't catch up with a three-legged elephant with a sprain!"
—Swift is very confident in his abilities
Swifty is a Cheetah who lives in the oasis or at least in a savanna nearby. While Simba
Timon
, and
Pumbaa
drink form the waterhole, the cheetah cub approaches them and introduces himself, as well as bragging about being "The Fastest Animal in the Region". Annoyed by this, Simba attacks, but misses. He then challenges Swifty to a race: Him, Timon and Pumbaa versus the Cheetah. After insulting Pumbaa once more, Swifty arranges the race date to be that afternoon, devio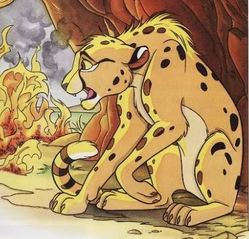 usly remarking it would be fun.
Swifty waits for Timon and Pumbaa at the river, angry at them for being late and telling them he'd began thinking they'd given up. They ready to race until Timon points out a bad storm is hanging overhead, and that the race should be put off, however Swifty disagrees and sees this as a way for the trio to escape losing the race.
Angering Simba into participating, the two race, Swift being a whole stride in front of Simba. Simba and his cohorts fall behind as Swifty reaches the cave they were supposed to be crowned victor at, but a lightning ignites the grass at the caves entrance, trapping Swifty inside. Swifty calls from help, and eventually Simba comes to his aid, but falls in as well. Ultimately it is Timon and Pumbaa who save the day.
Swifty maintains the thought he is the fastest, but tells Simba that he is the bravest.
Trivia
Gallery