Sokwe


Physical Attributes
Gender

Male

Species
Biographical Information
Affiliations
Titles
Familial Information
Family
Sokwe is a male gorilla. He is the father of Hafifu and Majinuni.
When Sokwe plans to renew his peace treaty with Simba, he sends his sons, Hafifu and Majinuni, to deliver the message to the Pride Lands. They eventually return to their father and admit that they had forgotten the message, but instead of being angry, Sokwe praises them for their bravery. He tells them that Simba's son, Kion, had related how they had saved his life, and Sokwe tells them that this makes them true gorilla princes.
Biography
During the wet season, Sokwe intends to renew his peace treaty with Simba, the king of the Pride Lands. His sons, Hafifu and Majinuni, are intent to impress their father, so they volunteer to take the message to Simba.
The two eventually return to the Theluji Mountains, where they admit to Sokwe that they had forgotten the message. Though Sokwe initially appears to be displeased, he suddenly throws snow over his sons' heads and exclaims, "Kuishi ni kucheka!" He then compliments the two for their bravery in saving Kion's life and tells them that they are true gorilla princes.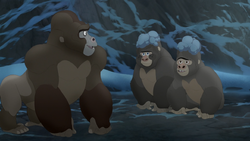 Kion interjects to ask about Sokwe's message for Simba, but Sokwe instead focuses on the snow ball that Bunga has collected for his adoptive uncle, Timon. Kion wonders if the souvenir is a problem, to which Sokwe replies that the snow ball is perfect.
When the Lion Guard returns to the Pride Lands, they report back to Simba at Pride Rock. Simba prompts the Lion Guard to relate Sokwe's message, to which Kion says, "Kuishi ni kucheka," as Bunga throws a snow ball over Simba's head. Instead of being angry, Simba laughs and comments that no one delivers a peace message quite like King Sokwe.
Physical appearance
Sokwe is a massive and imposing gorilla, with broad shoulders and a powerful build. His fur is dark gray, though the fur along his front legs is black, and the fur on his backside is pale gray. His eyes are black, and he has a dark stripe on his forehead.
Personality and traits
Though initially an intimidating figure, Sokwe proves himself to be fun-loving and forgiving. He appreciates his sons' bravery and praises them for their good work.
Voice actors
Gallery
Click here to view the rest of the gallery.
References