Simbarella


Biographical Information
Name

Simbarella

Gender

Female

Species
Familial Information
Family

Unnamed (father)
Unnamed (mother)

Media Information
Appears
Simbarella is an infant ostrich who makes her first and only appearance in Rescuers in Need.
Appearance
Simbarella is light blue, with a yellow beak, long eyelashes, and colorless eyes.
Personality
Simbarella's personality is unknown.
Information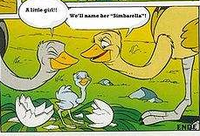 Simbarella is named after Simba, as the cub saved her life when she was just an egg. Her parents are so grateful to the young lion that they name their daughter after Simba.
Ad blocker interference detected!
Wikia is a free-to-use site that makes money from advertising. We have a modified experience for viewers using ad blockers

Wikia is not accessible if you've made further modifications. Remove the custom ad blocker rule(s) and the page will load as expected.