Unknown


Physical Attributes
Gender

Male

Species
Biographical Information
Familial Information
Family

Unknown
The Selfish Meerkat is an antagonistic meerkat who makes his first and only appearance in One Meerkat Too Many.
Appearance
The Selfish Meerkat is dark brown with darker stripes and a patch of red hair on his head. Unlike other meerkats, he has freckles and whiskers.
Personality
"

...and I hate warthogs! You make noise, you make messes, and you smell awful!
―The Selfish Meerkat to Pumbaa

"
The Selfish Meerkat is hardened and anti-social but cannot stand laziness or luxuries, choosing work over play. He is also quite fearless and certainly has a spine, for he attacks a full grown lion, a creature far larger than he.
Information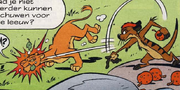 The Selfish Meerkat appears in the jungle (presumably before Simba arrives) and starts to steal all of Timon's favorite resting spots. Timon and his friend Pumbaa try to get the Selfish Meerkat to leave by having a lion chase him out, but the meerkat is not afraid and hits the lion with fruits. The two thank him and eventually run him off by their own sheer laziness.