Original Concepts and Documentations
Talk

36
935pages on
this wiki
The Lion King and its sequels went through many story ideas, character designs, and changes of events before they became the movies they are today. See below on how the script changed over time.
Early Story Ideas
War Between the Lions the and Baboons
According to the "Pride of The Lion King" documentary seen on the recent Blu-ray edition of the film, before The Lion King was even King of the Jungle, it was about a war between lions and baboons. Scar was the leader of the baboons, and Rafiki was a cheetah instead of a mandrill.[1]
When Allers and Minkoff became the directors, however, it was drastically changed and toned down in attitude.
Mufasa was originally scripted to sing a song titled "To Be King" during the film's early production, but it didn't suit James Earl Jones' singing voice.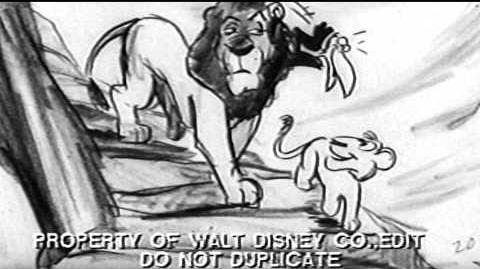 At the film's climax, Simba defeats Scar and throws him off Pride Rock. However, in the original script, Scar defeats Simba and throws him off Pride Rock. But the dark lion is then engulfed in flame and his tyrannical rule comes to an end.
Songs
Originally, the "Circle of Life" sequence was going to have dialogue, but after the filmmakers heard how powerful the music was, the dialogue was thrown out.
In the original script, Scar sang a different variation of "Be Prepared." This version is the original version of the final song heard in The Lion King. However, it was cut from the film during production. Much like the finalized version, it is sung by Scar and numerous hyenas. In this version, it is sung toward the lionesses who question Scar after his failed attempt to seduce Nala[2] (see "Scar lusts over Nala" below). Despite being cut from the film, the song is used as a reprise in the stage musical.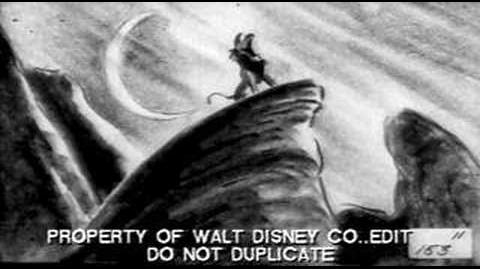 During production, another song titled "Warthog Rhapsody", was considered for the song, but was tossed out in favor of "Hakuna Matata". Later, an earlier concept of "Hakuna Matata" began with Timon singing, "When I was a young meerkat..." But the filmmakers decided that the song would work better if it were shorter and got to the point right away, so they cut Timon's verse.
Several demos of the song were recorded during the film's production. One demo was sung by Timon and Pumbaa, but Elton John disliked the comical nature of the concept, although the ending verse was used for the final film. Another demo was recorded by Joseph Williams and Sally Dworsky as Simba and Nala, but it was also scrapped as it didn't connect with the African-themed music for the film.
Voice Talents
The voice talents of Timon and Pumbaa were originally going to play the roles of Banzai and Shenzi. Disney aimed to have Cheech and Chong return as hyenas, but Chong refused the part and Shenzi turned into the female we see today.
Zazu
During production of The Lion King, John Cleese, Eric Idle, Michael Palin, Terry Jones, Terry Gilliam, and Patrick Stewart were all considered for the role of Zazu, but the role was finally given to Rowan Atkinson after the animators watched some episodes of Mr. Bean[3] at Thom Enqriquez's suggestion. According to Don Hahn's memoirs, Nathan Lane tried out for Zazu as well.[4]
Alternate or Deleted Scenes
Scar: "A King alone is a sad situation indeed, but a king without heirs is a tragedy"
Nala: "You can't be serious"
Scar: "I've never been more serious."
—Scar tries to seduce Nala
According to the five newest scenes revealed in the Blu-ray, Scar was indeed desiring the young and fit Nala as a mate and queen. Scar paces around the royal den, ignoring Zazu's advice about him doing something
to fix the lands and control the hyenas, wondering what's missing from his kingdom. Zazu mentions how if Mufasa was still around they wouldn't
be having this problem, and Scar attacks Zazu in annoyance. He angrily wonders what his brother had that he didn't, and Zazu eagerly lists them all off, mentioning a "loving family" and "a devoted Queen". Scar agrees with Zazu, delighted at the idea of having a queen to rule by his side and have "little Scars running all over the place!". He believes with his heirs, his descendents, his lineage, he will be immortal.
At this moment, Nala appears and Scar eagerly invites her in. Nala tells Scar it's chaos outside, and that something needs to be done, but Scar ignores her and begins to serenade her with a song to the tone of "Be Prepared":
Scar:
The World is Full of Problems... even for a king
It's tough at the top, I deserve a companion, a mate!




Added by

Rukii

Who will start...My cylinder's firing with fervor
And you, my sweet thing, fit the part!
Nala:
Excuse me?
Scar:
A King alone is a sad situation indeed,
but a king without heirs?
Now that's a Tragedy...
Nala:
You can't be serious.
Scar:
I've never been more serious.
Be prepared for a stunning proposal!
That power and beauty shall bond!
Which cannot but fail to insure ties of hail to!
A chief and discouncel, a synaqua monsel!
Ruling ascendents, our line of descendants!
Will flow through the pride and beyond!"
At this point, Nala strikes Scar, but he threatens her that one way or another he will be hers. He announces to the pride that Nala will be his queen, but she rejects him. He threatens her to be his queen, or be banished forever. Nala tells him he can't do this, but Scar orders she be taken away. Sarabi steps in, telling Scar to be reasonable, but Scar repeats his order again and says he is the king---they must obey him, but the lionesses stay together and defend Nala. It is then Scar introduces them to the hyenas, and then reprises "Be Prepared".
According to Roger Allers (who introduced the clip on the Blu-ray), the filmmakers felt the scene was creepy and took too long, but it eventually found a home in the Broadway musical as "The Madness of King Scar".
Timon and Pumbaa find Simba
Timon: "You okay kid?"
Simba: "I...I guess so"
Timon: "Ya hungry?"
Simba: "Yeah..."
—Timon

Timon and Pumbaa find Simba, aware he's not dead, and chase of the vultures like in the finalized version. Timon is a lot more opposed to taking in Simba than he is in the final version.
Zazu strokes Scar's ego
Zazu: "M-m-m was a great king...but you, sire...you define the word king."
Scar: "Continue."
—Scar and Zazu
A new scene revealed by The Lion King diamond edition.
Nala and Simba Reunite
In this alternate version, Nala mentions her banishment from the Pride Lands by Scar. This scene follows directly after "Scar wants Nala as his queen" and contains lots of new dialogue and old dialogue kept in the finalized version.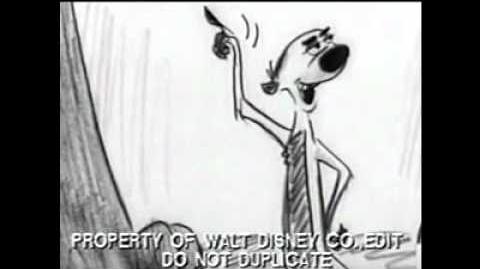 Alternate Names
Nala's original name was Nadra.[5]
Pumbaa's original name was Harold.
Rafiki was originally a baboon named Kwashi.
Original Characters
"Because originally Scar was a rogue lion. He didn't have anything to do with the pride, and then we thought "Well...I'd be more interesting if the threat came from within.""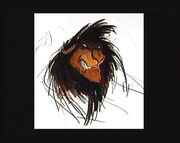 It is mentioned by Roger Allers, co-director of
The Lion King
, in one of the documentation videos below that originally Scar had no relation to the royal family blood wise, but still desired the throne. After
Jeremy Irons
' features were worked into Scar, he was changed to Mufasa's brother because the thought of an "inside threat" was a lot more interesting than a random rogue.
This is why Scar and Mufasa differ so much in appearance, despite being full-brothers.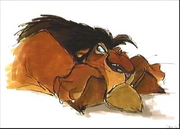 Ironically when they weren't related, Scar had a lot more in common with the Pridelanders and Mufasa; he had a thick, heavy frame, colorless paws at one point, light eyeshades, brown Pridelander nose, and even blue-grey eyes like Nala at one point.
According to Lion King co-director Roger Allers, Rafiki was to be depicted as a "crazy hermit monk". When the story team decided Rafiki should be far more wacky than wise, actor Robert Guillaume spent an entire day trying to figure out the character's voice and laugh.[7]
At one point when The Lion King was King of the Jungle during production, Timon and Pumbaa (named Harold at the time) were meant to be childhood friends of Simba, instead of being his adoptive fathers.
Deleted Characters
Mufasa's two cubs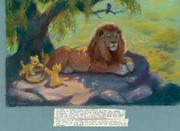 In the early versions of the film, Mufasa was to have two cubs instead of just one. Presumably one was Simba but the image never clarifies much about either of them.
Sarabi's sisters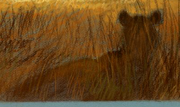 Early in the film, Sarabi had a sister named
Naanda
, which means "Full of Joy" or "Achiever". According to the caption, the two were very experienced hunting partners. Naanda had a tawny golden pelt and was the sister of Sarabi. However, in the released script of
King of the Beasts
, Naanda is written as Nala's mother, and Mufasa is implied to be her mate.
[8]
Diku and Dwala were also present in the script and written to be sisters of Sarabi. However, they were deleted from the film.
"Initially, Nala had a little brother that I included so she could protect him from Scar. There was a lot in the Pride Lands while Simba is away with Timon and Pumbaa, but it was too depressing. How do you animate a concentration camp?"
—Linda Woolverton on Mheetu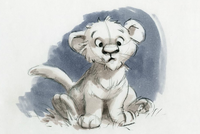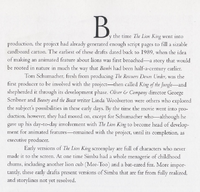 In the 2nd draft of the story, after the War between Baboons and Lions story, Simba found himself growing up with a multitude of friends, one of these friends being a young cub named Mheetu. Mheetu was also Nala's younger brother and part of her gang.
Bhati, Iggy, and Tesma were originally written to be childhood friends of Simba and Nala. Bhati was to serve as Mufasa's majordomo before she was replaced with Zazu. According to Mouse Under Glass, Bhati was closer to Nala than Simba.
Kobi and Prita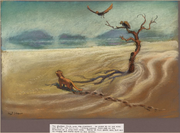 Kobi and Prita were vultures set to appear in The Lion King. According to their concepts, Prita was the son of Kobi. Their intended roles in the film are unknown.
Baasho is a hyena serving as Banagi's ally. In both early screenplays, after Mufasa dies, he chases after Simba, and unfortunately fails to kill him. At the end of the January 1990 script, he is banished alongside Banagi to the desert after Simba becomes king. In the May 1990 version, Baasho surrenders to Simba after he defeats Scar and Banagi.
Banagi is another hyena, who in both early screenplays, is the leader of the hyenas despite being male. In both screenplays, he is the real mastermind behind Mufasa's death, and easily manipulates the rogue, Scar, into becoming his puppet king. In the January 1990 screenplay, he is banished by Simba, after he becomes king, to the desert along with Baasho. In the May 1990 screenplay, he is defeated by Simba after Simba kills Scar in a duel.
The Deleted Meerkats
Desma, Mandila, Jamila, Ozina, Mandisa, and Nute are all female meerkat mothers deleted from the final film. They were present in the screenplay of King of the Beasts written by J.T. Allen and Ron Bass.
Their children are not named, and it is likely Desma is a misspelling of Tesma. The meerkat troop are all allies of Simba and Mufasa.[9]
Concept Art
Sculptures/Maquettes
Early Story Ideas
Scar's son

In the early stages of
Simba's Pride
,
Zira
had a single child, Nunka, who was her son with
Scar
.
[11]
He was the one supposed to charm Aisha (a working name for Kiara) in order to get to Simba.[12] According to the concept of Nunka above, he was almost a complete clone of Scar in appearance; they both shared bright green eyes, a black mane, and the same reddish fur (with Nunka's being noticeably duller in coloration). According to the magazine, Variety, a fairly reliable source, Nunka was to be voiced by Andy Dick, who ended up voicing Nuka.
Either way, Nunka was tossed out in favor of Kovu being Scar's son.
However, Kovu's relationship with Scar was changed in the middle of production to avoid incest as he would be Simba's cousin and Kiara's first cousin once removed. Apparently, his physical attribute
s were also changed as Kovu's mane used to be black like his intended father, his fur was reddish-orange, and his eyes were bright green, but all these dulled when he was no longer Scar's son.
When Kovu's design was finally finalized and his relation to Scar was completely gone, his mane turned from black to brown, his eyes bright green to emerald, and fur bright red to and almost brownish Purple.
Traces of it can still be seen in the finished film however, such as when Kovu's mane tuft flashes black during his first encounter with Kiara.
Zira's Pride
Originally, Zira was going to be accompanied by the hyenas[13] serving as her army. An article from New York Daily News released in 1996 even states Cheech Marin just reprized his role as Banzai for the sequel.[14] However, the hyenas were replaced with the pride of lionesses known as the Outsiders.
Mufasa visits Kiara
In the Proud of Simba's Pride documentary, James Earl Jones is seen recording a line, "You have let your family break apart, and in doing so, you have broken the Circle of Life" for Mufasa. According to the Simba's Pride page found on lionking.org, the line was to be used for when "Kiara is visited by the spirit of Mufasa, who reminds Kiara of her obligation to her pride and her role in the circle of life."[15] Why this scene and dialogue was cut from the film remains unknown.
Alternate Names and Designs
Bianca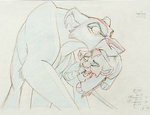 It is rumored that Bianca was a working name for Zira. However, in almost every Simba's Pride novelization, Zira's eyes appear blue. This could indicate her eyes were to be blue at some point during production.
Zira's eyes have also been shown to be a shade of green in what looks like the frame of a concept sketch of Zira holding Kovu that was close to finalization. An interesting note is all three of her children have one of her eye colors; Kovu's are green, Vitani's are blue, and Nuka's are her finalized red.
Shani and Aisha
Shani and Aisha were working names for Kiara. In Swahili, Shani
means "accident, curiosity, crimson,
[16]
novelty, something unusual"
[17]
while Aisha means "life" in another language. In a concept sketch, Shani is depicted as having a scruffy tuft of hair like her father
Simba
when
he
was a cub. Because of her name meaning "curiosity" in Swahili, concepts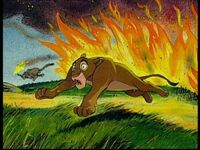 of her labeled Shani are seen with her curiously wandering through the Outsiders' cave.
[18]
Also, a concept of Simba's daughter is seen with dark brown fur and green eyes.
In the con
cept sketch of the rhino stampede, Shani/Aisha is seen with bright yellow fur and gray-colored paws. However, the name, Aisha, was thrown out when Disney realized this was the name of the Yellow Power Ranger of
Mighty Morphin Power Rangers
, Aisha Campbell.
[19]
Vitani
During production, Vitani was originally Shetani, which means "Devil" in Swahili.[19]
Deleted Characters
Chaka
In an original draft of Simba's Pride, Simba and Nala had a daughter, Shani, as well as a son, Chaka.[20] This new character was originally supposed to be the cub held up at the end of the first film. However, some people, Rob Minkoff and Roger Allers among them, thought that this complicated the story, thus, Chaka was scrapped.
Zazu's girlfriend, Binti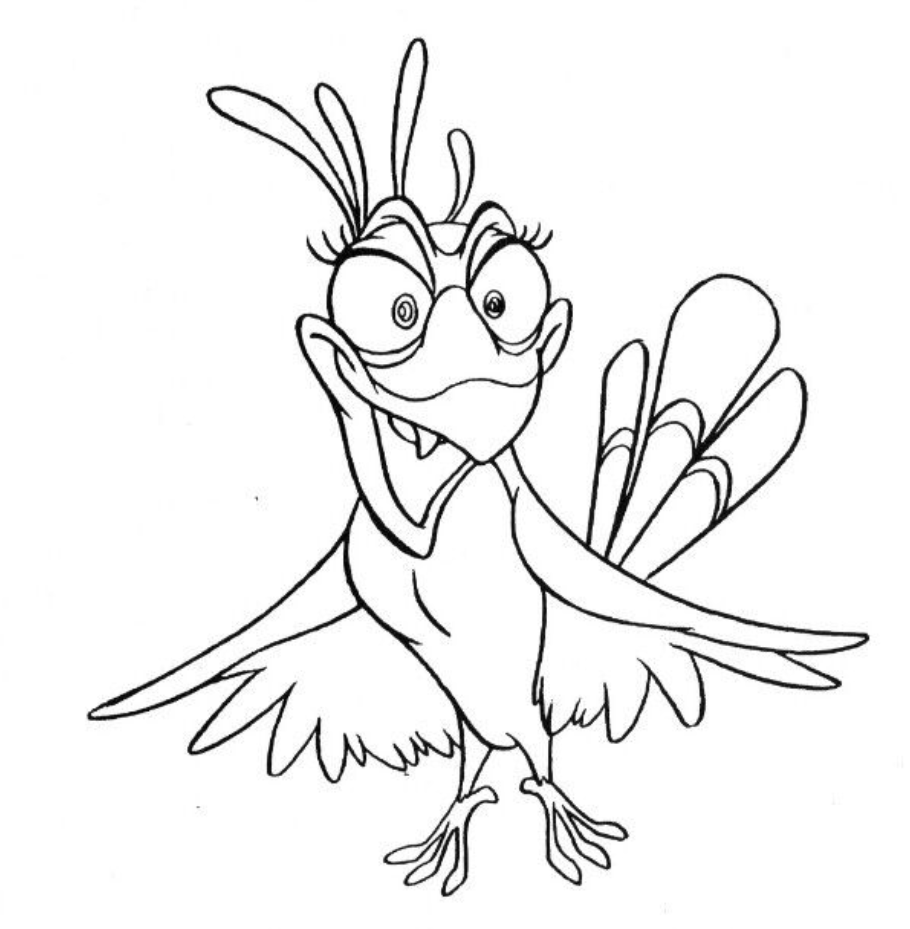 Originally, a female hornbill accompanied Zazu and probably shared his duty as majordomo, as well being romantically attracted to Zazu. Apparently, Binti didn't get past the character design despite having 20 different designs for her all drawn up,[13] which are not available on the web. In an archived article reported in the San Antonio Express, it was reported that Frasier actress Jane Leeves was slated to voice Binti in The Lion King II.[21] Zazu has a very minor role in Simba's Pride himself, which is probably why she was cut.
Unnamed Rhino
In an interview with Austin American-Statesman in 1995, actor Thomas Haden Church stated, "The coolest thing that's happened to me recently is I'm doing the sequel to The Lion King," as well added, "I'm doing the voice-over for a rhinoceros, and he's a really butch rhinoceros, too".[22] [23] In an anonymous source, it states that Binti rides a rhino.[24] Whether the two characters have an actual connection remains to be seen.
Cut Scenes
Another Cub
"There is trouble in the Pride Lands...there is another Cub?"
—Rafiki about Kovu

Rafiki paints an emblem of Kiara on the trunk of his tree, happily commenting on the security of the Pride's future. Mufasa's spirit ruffles his mane, stopping by to visit and through this discovers another Cub while in his Tree with help from Mufasa's spirit. First he accuses Mufasa of breaking the circle, until then he sees the new cub as trouble.
Kovu's Bug
Zira: "Kovu! Don't let it go! What's the matter with you?"
Kovu: "But mother! He wasn't hurting anyone!"
Zira: "There is no room here for weakness my son. Remember...Scar took you in and accepted you as his own son."
—Zira and Kovu

Unlike the movie which doesn't show Kovu training at all, this scene shows us he was trained to hunt and kill termites to sharpen his hunting skills. Kovu however, sees no point in harming the insect as it did nothing to him and lets it go, to which Zira sees as weakness. She reaffirms that Scar took Kovu in and chose him as the next king, then her mood elevates into rage upon realizing they live in the "dry, pathetic, termite-infested Outlands".
Nuka and Vitani's News
Zira: "A girl?! Ahahaha! Scar, my beloved, did you hear that? This couldn't be more perfect!"
Nuka: "Who's she talking to?"
Vitani: "Shhh! Scar!"
Nuka: "Where? Where"
Vitani: "*scoffs*Scar's dead genius"
Zira: "Yes! Because of Simba! If not for him, Scar would still be king, and I, Zira, his loving devoted Queen"
—Zira, Nuka, and Vitani

This deleted scene comes directly after "Kovu's Bug" with Nuka and Vitani having finished their spying in the Pride Lands, and Vitani reports the news of Simba's cub being a girl to Zira. Zira laughs winningly, commenting that the situation "couldn't be more perfect" and begins talking about towards Scar. When Vitani mentions Scar is dead to Nuka (who asked why Zira started talking to him even though he wasn't around), Zira's anger returns, and she blames Simba for Scar's death, stating if not for him, she'd still be queen by Scar's side. Nuka later requests that as the oldest, he should be king, but Zira snaps at him, reminding him Kovu is the Chosen One so he will be king to which Nuka replies he can work with that.
According to The Lion King II script written by Brian Tiemann, after Nuka complies with his mother's vision, Zira climbs up on a rock point to gaze out over the Pride Lands with her children following her. She says to them, "Look... at the Pride Lands, my pets. So green... so inviting. That is our home... that is where we belong. And soon, my beloved Scar... we shall reclaim your kingdom." Then, it is followed by the final film's second scene with the camera zooming toward Pride Rock with cub Kiara saying, "Wow!" However, known footage of this scene was not included in the deleted scene, and has yet to released individually.
Nuka's Death
"Well...I finally got your attention didn't I? Didn't I..."
—Nuka's extended last words
Originally, Nuka's demise was to be longer than what was onscreen. When Nuka tells his mother that he finally received his long-wanted attention from her, Zira gives a true loving smile to Nuka as she cradles his head before he passes. Even though most of it was deleted, it is still possible to hear Nuka whisper a final "Didn't I?" before he dies. This could easily be mistaken as a generic dying noise. It is speculated that it was deleted because it sent the wrong message of "you must hurt yourself for your parent's attention" to children.
Zira's Suicide
"No...Never"
—Zira to Kiara before she lets go
During this extended alternate version of Zira's demise, Kiara offers Zira some assistance, but Zira swipes her paw away in refusal only to later struggling to keep from falling into the river. Kiara again offers Zira some help, but Zira glances into the river, and vocally refuses Kiara's help, and lets go of her own accord with a twisted smile upon her face. Even though Zira's suicidal actions were removed, she can still be seen smiling as she falls into the river in the final film. It is said it was removed because it was too dark for a Disney film.
Concept Art
Alternate Openings
These are the alternate openings that became deleted when the filmmakers preferred having Timon and Pumbaa in a movie theater wanting to explain to the audience their side of the story
Rafiki retells The Lion King
"You see, it was the Circle of Life! Oh? You've heard of this before? You think you know this story. You don't know the half of it!"
—Rafiki
Originally, Lion King 1½ began with Rafiki watching over the animals as the approached Pride Rock for Simba's birth. However, Lion King 1½ director Bradley Raymond explained that he felt the scene was too majestic for a comedy-based movie.
Timon and Pumbaa retell The Lion King
Pumbaa: "Look! Here's the presentation of baby Simba! Isn't he cute?"
Timon: "Yeah. And here he is...hey, where's his two irresistible sidekicks?"
Pumbaa & Timon: "That's us!"
Timon: "This story revolves around us! In fact, there wouldn't even be a story without us! Who saved Simba, huh? Who raised him as if he was our very own? And who helped him beat that big jerk Scar?"
—Timon and Pumbaa, in a deleted scene, retell the original story
Originally, the story again started in Rafiki's Tree, with various drawing painting on its surface as Timon and Pumbaa retell the story. The meerkat gloats about how there would be no story without them. Eventually, Rafiki appears, angered that they drew on his tree without his permission, and chases the two offscreen.
The Ballet of Old Fearless Buzz
"
Sing the Ballet of Fearless Buzz,
Greatest Meerkat there ever was.
Said no meerkat should have to hide,
Wiped his paws off and went outside.
Fought a vicious hyena back,
Even till he was blue and black,
But forgot hyenas were in a pack.
Meerkat's say he was meerkat snack."
—Ballet of Buzz

Originally, the meerkats were to sing about a meerkat named Buzz to the tune of "Digga Tunnah", but he was cut as that was one more character the audience had to familiar themselves with.
Timon's father
In a short deleted scene, Timon joins his father who is on sentry duty. Timon asks his father why does the colony have to dig tunnels, and his father replies, "Look out to the horizon. Everything the light touches...belongs to someone else." As explained by Raymond, the father character was deleted from the movie because the filmmakers felt there were too many characters in the story, and his lines were transferred to Ma.
Concept Art
References
Documentation Links
Documentations