Old Fearless Buzz


General Information
Composer

Martin Erskine

Lyricist

Seth Friedman

Length

0:50

Usage Information
"Old Fearless Buzz" is an early version of "Digga Tunnah". It is sung by meerkats about a brave meerkat named Buzz, who attempted to take on the hyenas.
Lyrics
Meerkats:
Sing the ballad of Fearless Buzz

Greatest meerkat there ever was

Said no meerkat should have to hide

Wiped his paws off and went outside

Fought a fearsome hyena back

Even till he was blue and black

But forgot hyenas roam in a pack

Meerkat brave equals meerkat snack

Video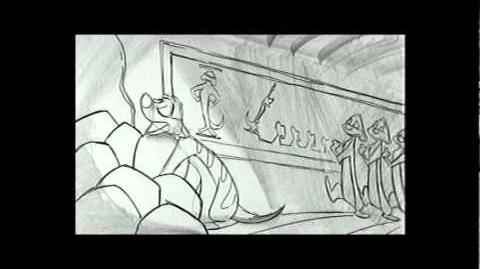 Ad blocker interference detected!
Wikia is a free-to-use site that makes money from advertising. We have a modified experience for viewers using ad blockers

Wikia is not accessible if you've made further modifications. Remove the custom ad blocker rule(s) and the page will load as expected.