Monty
Talk

0
933pages on
this wiki
" Oh, Mabu you are such a pain. Can't you ever be good?"
—Monty to Mabu
Monty is Timon's nephew and Mabu's elder brother from Mabu's Mischief.
Appearance
Monty is a shade darker than his sister Mishka, and his hair is bright red as well as very spiky, jutting forwards in a Mohawk-like fashion. Monty's eyes are red, eyeshades are brown, and his nose is black.
Personality
Monty seems to be irritable, though this could just be from Mabu's pranks.
Information
In Mabu's Mischief
"There is nothing we can do now."
—Monty blandly about Mabu's fate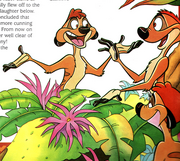 Monty is minding his own business sunning himself, and keeping an eye out for airborne predators, when he is startled by the mischievous Mabu. He expresses his grievances to Mabu, but his brother is not deterred, and warns the colony that
The Sky Bandit
is approaching just to see them scatter.
When Mabu is snatched by the eagle who actually is there, he doesn't care very much, but is pleased when he returns vowing to never be mischievous again.
Trivia
Monty's fur appears bright red in one picture.
References