Monty


Physical Attributes
Gender

Male

Species
Biographical Information
Familial Information
Family
"

Oh, Mabu, you are such a pain. Can't you ever be good?
―Monty to Mabu

"
Monty is a meerkat who makes his first and only appearance in Mabu's Mischief. He is Timon's nephew.
Biography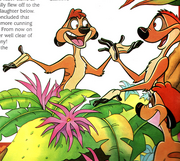 "

There is nothing we can do now.
―Monty about Mabu's fate

"
Monty is minding his own business, sunning himself and keeping an eye out for airborne predators, when he is startled by the mischievous Mabu. He expresses his grievances to Mabu, but his brother is not deterred and warns the colony that the Sky Bandit is approaching just to see them scatter.
When Mabu is snatched by the eagle himself, Monty doesn't express much worry, but he is pleased when Mabu returns, vowing to never be mischievous again.
Physical appearance
Monty is a shade darker than his sister Mishka. His hair is bright red and bristly, jutting forward in a Mohawk-like fashion. Monty's eyes are red, his eye shades brown, and his nose black.
Personality and traits
Monty often reacts with irritation to his brother Mabu's pranks, though he is happy to be reunited with his brother after the latter is stolen away.
Trivia
References