Mishka


Physical Attributes
Gender

Female

Species
Biographical Information
Familial Information
Family
"

I want to see you staying out of trouble.
―Mishka to Mabu

"
Mishka is a meerkat who makes her first and only appearance in Mabu's Mischief. She is Timon's niece.
Biography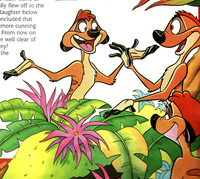 "

Poor Mabu.
―Mishka about Mabu

"
Mishka is a victim of Mabu's pranks but seems to pity him rather than be annoyed. She is even genuinely upset when the Sky Bandit carries her brother off, and reacts with joy when he returns home in one piece.
Physical appearance
Mishka has light creamy fur, red eyes, and a tuft of ginger hair. She is much the same color as her brother Mabu aside from her noticeably lighter fur.
Personality and traits
Mishka seems easygoing, as she simply wants Mabu to behave better. However, when attacked directly, she is prone to vengeance.
References