Mirihi Forest


Physical Information
Kingdom
Societal Information
Residents
Mirihi Forest is a location in The Lion Guard.
Physical Attributes
Mirihi Forest is located in the Back Lands, a kingdom that borders the Pride Lands. It is a widespread grove of trees, with a fair amount of open space and several areas of sloping terrain.
Information
A feeble leopard named Badili lives in a tree in Mirihi Forest when he is driven out by the much stronger Mapigano. With no place else to go, Badili seeks refuge in the Pride Lands, where he encounters the Lion Guard. The team implores him to return home, and though hesitant, Badili eventually complies.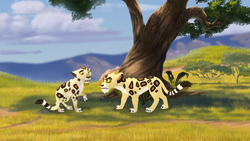 When Badili reenters his territory, he is confronted by Mapigano. However, before Badili can be driven out again, the Lion Guard forces Mapigano to give the territory back. Mapigano submits to their authority, but the very next day, he takes Mirihi Forest again, forcing Badili back into the Pride Lands.
This time, the Lion Guard teaches Badili to stand up for himself, and he returns to Mirihi Forest with newfound vigor. Once there, he stands up to Mapigano and intimidates him into leaving the territory alone. The Lion Guard praises Badili for his courage and then leaves him to settle back into his territory.
Gallery
Click here to view the rest of the gallery.