Welcome to
The Lion King Wikia!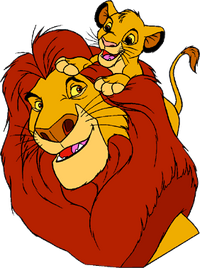 Welcome to The Lion King Wikia, a database that anyone can edit.
This is a wikia devoted to all things related to The Lion King. This includes the films, the merchandise, the musical, and more!
The Lion King Wikia currently has 1,422 articles.

Rules
Please be respectful to other users.
Please keep your language clean.
Please refrain from adding fan-related material to the articles.
Please use correct grammar and spelling.
When posting, please put ~~~~ at the end of your messages.
Featured Articles
| | |
| --- | --- |
| Basi is a hippopotamus who appears in The Lion Guard. He is the leader of the hippopotamuses, and the father of Beshte. Basi is first seen when Beshte brings his friends to Big Springs. While there, Beshte explains to them how the fish pick his hide and teeth clean, and Basi adds that the crocodiles eat the fish when the population spikes, thus fulfilling the Circle of Life. In the midst of their talk, Pua, the leader of the crocodiles, approaches and asks Basi how the fish are faring. Basi suggests that the float come back next week, and Pua amicably agrees, leading his crocodiles away. | |
---
| | |
| --- | --- |
| Operation Pridelands is a video game inspired by The Lion King. At the start of the game, Kigali the bird can be seen flying over the Pride Lands in search of the animals who've fled the reign of Scar. Shortly afterward, Timon and Pumbaa enter the jungle in search of a rhinoceros named Gaucíngoua, whom they eventually find and receive instructions from regarding where the animals of the Pride Lands are. Timon and Pumbaa approach a map that Gaucíngoua has drawn, where they can begin their journey to bring the lost animals home. | |
---
| | |
| --- | --- |
| The Great Spirit is a mystical being that is worshiped by the lions of the Pride Lands. After Simba's encounter with the hyenas, the cub is feeling shaken and upset, so Sarabi takes Simba out one night to see the moon. To calm her son, she sings him a song about a lion who inhabits the moon. In the comic The Orphaned Birds, he is assumed to be the cause of Tojo's sprained leg, as Tojo is later able to take in and raise six orphaned birds. | |
Featured Video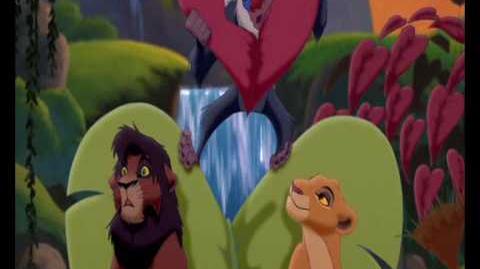 Explore the Wiki
Films
Voice Actors
Books

The Lion King: Six New Adventures • The Brightest Star • More

Comics
Songs

"Circle of Life" • "I Just Can't Wait to be King" • "Be Prepared" • More

Scores

"This Land" • "...To Die For" • "King of Pride Rock" • More

Film Characters
Other Characters
Poll
What's your favorite episode so far?
Picture of the Week

Ma is introduced to Pumbaa
Quote of the Week
"

"We are more similar than you think, Kion."
—Jasiri

"