Kigali


Physical Attributes
Gender

Male

Biographical Information
Kigali is a male bird.
Biography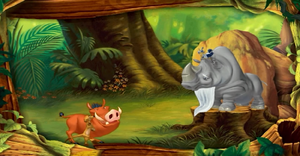 At the start of the game, Kigali can be seen soaring over the Pride Lands in search of the animals who'd fled Scar's reign. He soon returns to Gaucíngoua and reports their locations, and Gaucíngoua instructs Timon and Pumbaa to bring the animals back to the Pride Lands. Throughout the game, Kigali can be seen perched on Gaucíngoua's head.
Physical appearance
Reedy and thin, Kigali is a rather small bird with an elongated beak and head. His feathers are white, though the tops and undersides of his tail and wings are black. His beak is a very pale orange, with yellow strips under his eyes and along his mouth, and he has a crest of black-tipped feathers on his head.
Trivia
Kigali is the capital of Rwanda, a country in Africa.[1]
References