Kasai


Physical Attributes
Gender

Male

Species
Biographical Information
Affiliations
Kasai is a male snake.
Biography
Backstory
Kasai is a snake who lived during Scar's reign. Due to the poor conditions of the Pride Lands, he left to live in the jungle.
While on his way to fetch Kasai with Timon, Pumbaa warns his companion that Kasai may be dangerous and becomes so nervous that he hides, leaving Timon to fetch Kasai on his own. Despite Timon's efforts to draw him back, Pumbaa refuses to come out of hiding.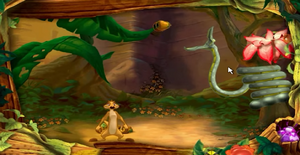 A nervous Timon confronts Kasai alone and tells him that the Pride Lands are safe now that Scar has been defeated, but Kasai admits that he's too tired to return home. He explains that he'd been in search of beautiful things when he'd climbed a tree and grown too fatigued to climb back down. Timon offers to help him find some food, and Kasai accepts his offer, gulping down several piles of fruit that Timon throws him.
After regaining his strength, Kasai promises to return to the Pride Lands.
Physical appearance
The long-bodied Kasai is pale green in color, with even lighter spots dotting his hide. His eyelids and underbelly are bright green, and his eyes are black.
Personality and traits
Kasai harbors a love of beautiful things.
Trivia
The Kasai River is a tributary of the Congo River, a river in Africa.[1]
Despite snakes being carnivores, Kasai eats fruit and is able to digest them.
References