Juhudi


Biographical Information
Name

Juhudi

Meaning

Zeal, fervour, enthusiasm, diligence[1]

Gender

Female

Species
Affiliations
Familial Information
Family

Twiga (mother)

Media Information
Voiced by

Ivy Bishop

Appears
Juhudi is a female giraffe. She is the daughter of Twiga.
Biography
One day, Juhudi is at a watering hole with her mother, Twiga, who is attempting to drink from the pool. However, Juhudi's rambunctious antics continue to distract Twiga. Muhimu tells Twiga that her son Hamu is being babysat by Bunga, and Twiga wonders if Bunga would take Juhudi as well.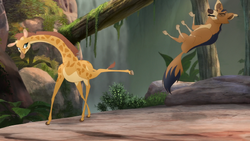 Twiga and several other Pride Lander parents approach Bunga, who agrees to watch their children. Together, Bunga and the young animals sing "Teke Ruka Teleza", in which Bunga teaches the children to "kick," "jump," and "slide."
In the middle of their games, the young animals are attacked by Reirei and her children, Kijana and Dogo. However, by using Bunga's "Teke Ruka Teleza" lesson, Juhudi and the other children are able to fend off the jackals. Shortly afterward, the parents return, and Juhudi excitedly relates her lessons to Twiga.
Physical appearance
Juhudi is a small giraffe calf. Her pelt is tawny-brown and dotted with brown spots, while her mane and tail are pale brown in color. Her eyes are green.
Personality and traits
Juhudi is rambunctious and does not take orders well. She is fun-loving and enjoys games, showing a particular fondness for Bunga.
Gallery
References
Ad blocker interference detected!
Wikia is a free-to-use site that makes money from advertising. We have a modified experience for viewers using ad blockers

Wikia is not accessible if you've made further modifications. Remove the custom ad blocker rule(s) and the page will load as expected.