Growler
Talk

0
933pages on
this wiki

Growler is an older warthog piglet that appeared in the book Pumbaa's New friends.
Appearance
Growler is a dark, gray-brown warthog, with growing tusk, a growing black mane and dark red eyes.
Personality
Growler is a conniving and scheming young warthog. He is very aggressive, especially towards the weak or who he portrays as weak.
Information
Pumbaa's New Friends
Growler strongly disliked Pumbaa and considers the older warthog a disgrace to the entire species, as he is poor at hunting and many other things warthogs are supposed to do. His mother however, enjoys other's company and patiently teaches Pumbaa how to be a real warthog. Annoyed his mother and siblings don't share the same midst he does, Growler instigates conflict between the Chief warthog and Pumbaa, by lying and telling the Chief Pumbaa plans to take over the land.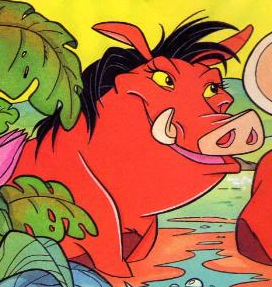 Growler leads Pumbaa into an area referred to as 'The Rocks' and into a trap promising a fun game to the older warthog. Leaving Pumbaa surrounded by the chief and other males Growler creeps off but Simba and Timon catch up to him and force Growler to tell them Pumbaa is. After hearing Growler led Pumbaa into a trap, Growler's Mother banishes him from the sounder after calling him a disgrace.
Trivia
Growler is supposedly banished yet is seen with the family towards the end of the story.