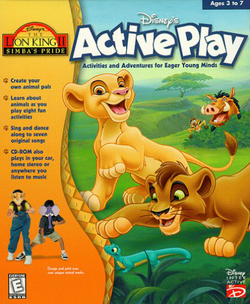 Disney's Active Play: The Lion King II: Simba's Pride is a video game inspired by The Lion King II: Simba's Pride. It was released by Disney Interactive Studios.
Information
Gameplay
"Lion King II: Simba's Pride Active Play invites children to play, sing, and dance along at home, in the car, or at the computer. Follow the story and the new lion cubs through the Pride Lands. Create coloring pages, board games, and costumes. Take Kiara, Kovu, Timon, and Pumbaa with you anywhere for sing-along fun."[1]
Songs
The game featured seven songs, an introductory song titled "Come Along to the Pride Lands", a closing song titled "Journey's End", and five mid-game songs:
Video
References
Ad blocker interference detected!
Wikia is a free-to-use site that makes money from advertising. We have a modified experience for viewers using ad blockers

Wikia is not accessible if you've made further modifications. Remove the custom ad blocker rule(s) and the page will load as expected.