Buzz


Biographical Information
Name

Buzz

Gender

Male

Species
Affiliations
Familial Information
Family

Unknown

Media Information
Mentioned
"

Sing the ballad of Fearless Buzz, greatest meerkat there ever was...
—Meerkats sing "Old Fearless Buzz"

"
Buzz (called Old Fearless Buzz) is a meerkat who was set to appear in The Lion King 1½. He is a fearless meerkat who attempted to take on the hyenas.
Appearance
Though Buzz never physically appears in concepts, he is depicted through cave drawings. In these drawings, he is portrayed as being considerably tall and barrel-chested.
Personality
"

Meerkat brave equals meerkat snack!
—Meerkats sing "Old Fearless Buzz"

"
Buzz is renowned for his bravery in facing the hyenas. However, his recklessness ultimately led to his early demise.
Information
"

Said no meerkat should have to hide, wiped his paws off and went outside, fought a fearsome hyena back, even till he was blue and black, but forgot hyenas roam in a pack...
—Meerkats sing "Old Fearless Buzz"

"
In early drafts of the film, Buzz appears during "Digga Tunnah" in a series of cave paintings. As the meerkats work, they sing "Old Fearless Buzz" about a renowned hero named Buzz, who had gotten fed up with being bullied by the hyenas and decided to put a stop to their antics. He'd left the safety of the colony and fought a hyena. However, the rest of the pack had arrived and finished him off, rendering his brave stunt futile.
Trivia
Video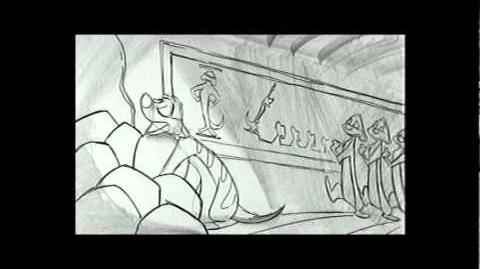 References
Ad blocker interference detected!
Wikia is a free-to-use site that makes money from advertising. We have a modified experience for viewers using ad blockers

Wikia is not accessible if you've made further modifications. Remove the custom ad blocker rule(s) and the page will load as expected.