Bhati


Biographical Information
Name

Bhati

Meaning
Gender

Female

Species

Bat-eared Fox

Affiliations
Media Information
Appears
Bhati is a bat-eared fox who was set to appear in The Lion King when it was initially titled King of the Jungle. She is a childhood friend of Simba and Nala's.
Biography
Backstory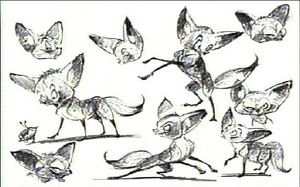 Bhati most likely lived during Mufasa's reign. She met and befriended Nala when the latter was a cub and  presumably met Simba through her.
During early production of the film, Bhati was intended to be a childhood friend of Simba and Nala's. Beyond this, her role in the film is somewhat obscured, though it can be safely said that she was an active participant in Simba's impulsive antics and loved being around her friends, as indicated by her numerous concepts.
Physical appearance
In most sketches, Bhati is drawn to be long-bodied and slim with skinny legs and a long, pluming tail. Her fur is usually depicted as being sandy-yellow, though several concepts display her with brown, orange, or red fur. Her ear tips, eyebrows, legs, and tail tip are always darker than her main pelt while her chest is lighter. In newer concepts, she is given freckles and amber eyes.
Personality and traits
Not much is known about Bhati's personality. However, according to Mouse Under Glass, she is a "wisecracking" friend of Simba and Nala's. It can be assumed that she was better friends with Nala than Simba, as she was a member of Nala's gang rather than Simba's, which at the time consisted of only Timon and Harold.
Gallery
References
Ad blocker interference detected!
Wikia is a free-to-use site that makes money from advertising. We have a modified experience for viewers using ad blockers

Wikia is not accessible if you've made further modifications. Remove the custom ad blocker rule(s) and the page will load as expected.