Bhati


Physical Attributes
Gender

Female

Species

Bat-eared fox

Fur color

Black, brown, tan, and white

Eye color

Amber

Biographical Information
Status

Living

Residence
Affiliations
Bhati is a young female bat-eared fox. She is a childhood friend of Simba and Nala's.
Biography
Backstory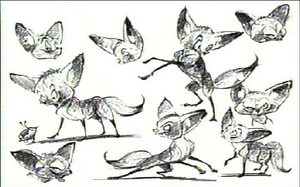 Bhati most likely lived during Mufasa's reign. She met and befriended Nala when the latter was a cub and  presumably met Simba through her.
During early production of the film, Bhati was intended to be a childhood friend of Simba and Nala's. Beyond this, her role in the film is somewhat obscured, though it can be safely said that she was an active participant in Simba's impulsive antics and loved being around her friends, as indicated by her numerous concepts.
Personality and traits
Not much is known about Bhati's personality. However, according to Mouse Under Glass, she is a "wisecracking" friend of Simba and Nala's. It can be assumed that she was better friends with Nala than Simba, as she was a member of Nala's gang rather than Simba's, which at the time consisted of only Timon and Harold.
Gallery
Click here to view the rest of the gallery.
References