Babu (baboon)


Physical Attributes
Species
Skin color

Blue, brown, and tan

Fur color

Black and gray

Eye color

Black

Biographical Information
Name meaning

Grandfather[1]

Status

Living

Residence
Affiliations
"
Babu: Is this what you had in mind?
Simba: Yes! This is exactly what I wanted!

—Babu and Simba about Babu's artwork

"

Babu is a young baboon. S/he is one of Rafiki's pupils.
Biography
Backstory
"

Hey! Rafiki's teaching the young monkeys!
―Simba about Rafiki's students

"
Babu is a young baboon who lived in the Pride Lands during Mufasa's reign. During his/her youth, s/he enrolled as a pupil of Rafiki's.
"
Simba: Hey, Babu! Now that Rafiki's gone, could you help me?
Babu: Sure, Simba!

—Babu and Simba

"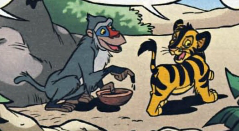 Babu is first seen among a group of young baboons who are taking a painting lesson from Rafiki. When the lesson is over, Simba approaches Babu and asks him/her for help. The young baboon gets a bowl of Rafiki's paint and colors zebra stripes on Simba's fur. S/he later paints leopard spots on Nala.
Personality and traits
Though Babu's personality is not explored, s/he is shown to be friendly and helpful, ready to take time to assist his/her friend Simba. His/Her willingness to indulge in a prank also reveals him/her to be a bit on the mischievous side.
Trivia
Babu is most likely male, since his/her name has a masculine meaning.[1]
References