Anthony DeRosa
Biographical Information
Name

Anthony DeRosa

Born

February 18, 1967

Birthplace

Burlington, Vermont

Career Information
Occupation

Animator

Years

1990 – Present

The Lion King work
"

For me, the [thing] I felt [made] The Lion King[...]a really good film was[...]these three pillars; you've got 'Circle of Life,' then you've got the stampede[...]and then you've got Mufasa's ghost[...]so it's like those three moments are birth, death, and rebirth.
―DeRosa about The Lion King[1]

"
Anthony DeRosa is an animator whose contributions to animation have included several Disney leading or title characters, such as adult Nala from The Lion King.[2]
Information
Biography
In 1978, DeRosa enrolled in the character animation program at Calarts, where he met future Disney animator and colleague Mark Henn. Alongside Henn and many other eager students, DeRosa learned the art of animation. Following his enrollment in Calarts, he participated in his first professional project, a video short called Hoomania, which was made and distributed by Adelphi Productions.
DeRosa first joined Disney in 1985 as a breakdown artist on The Black Cauldron. He later went on to become a key assistant animator on The Great Mouse Detective, a character animator on Oliver & Company, and an animator on The Little Mermaid.
His first job as a supervising animator came with the release of The Rescuers Down Under, for which he animated Bernard. For Beauty and the Beast and Aladdin, DeRosa animated the leading male characters, Beast and Aladdin, respectively. He was later named supervising animator for Nakoma from Pocahontas, Zeus and Hera from Hercules, and Moliere from Atlantis: The Lost Empire. Most recently, DeRosa has served the role of supervising animator for Lawrence from The Princess and the Frog and Piglet, Kanga, and Roo from Winnie the Pooh.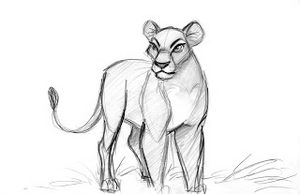 This film was DeRosa's Disney debut, as he was given the opportunity to supervise animation for adult Nala. Although Pocahontas was considered the more important of the two films during production, DeRosa had no preference as to which film he was given a lead.
"We had to, of course, bring in the lions into the studio," remarks DeRosa. "[It] was a very important moment, I think, for all the animators[.] [It was] very informative seeing those gigantic beasts close up. It's a different experience when you are that close to them."
Along with Andreas Deja, he volunteered to pet one of the lions, though the experience left him with great respect for the size and power of the animals.
Disney Animation Credits
| | | |
| --- | --- | --- |
| 1985 | The Black Cauldron | Breakdown Artist: Gurgi |
| | | |
| --- | --- | --- |
| 1986 | The Great Mouse Detective | Key Assistant Animator |
| | | |
| --- | --- | --- |
| 1988 | Oliver & Company | Character Animator |
| | | |
| --- | --- | --- |
| 1989 | The Little Mermaid | Animator: Carlotta |
| | | |
| --- | --- | --- |
| 1990 | The Rescuers Down Under | Supervising Animator: Bernard |
| | | |
| --- | --- | --- |
| 1991 | Beauty and the Beast | Animator: Beast |
| | | |
| --- | --- | --- |
| 1992 | Aladdin | Animator: Aladdin |
| | | |
| --- | --- | --- |
| 1994 | The Lion King | Supervising Animator: Adult Nala |
| | | |
| --- | --- | --- |
| 1995 | Pocahontas | Supervising Animator: Nakoma |
| | | |
| --- | --- | --- |
| 1997 | Hercules | Supervising Animator: Zeus and Hera |
| | | |
| --- | --- | --- |
| 1999 | Fantasia 2000 | Lead Character Animator: Spring Sprite |
| | | |
| --- | --- | --- |
| 2001 | Atlantis: The Lost Empire | Supervising Animator: Moliere |
| | | |
| --- | --- | --- |
| 2002 | Treasure Planet | Animator: John Silver |
| | | |
| --- | --- | --- |
| 2004 | Home on the Range | Animator: Maggie |
| | | |
| --- | --- | --- |
| 2009 | The Princess and the Frog | Supervising Animator: Lawrence |
| | | |
| --- | --- | --- |
| 2011 | Winnie the Pooh | Supervising Animator: Piglet, Kanga, and Roo |
Gallery
External Links
References