Andreas Deja
Biographical Information
Name

Andreas Deja

Born

April 1, 1957

Birthplace

Gdańsk, Poland

Career Information
Occupation

Animator

Years

1980 – Present

Website
The Lion King work
"

I did Gaston in Beauty and the Beast and Jafar for Aladdin, but I think this one is probably the most evil of all the villains that I have worked with.
—Deja about Scar[1]

"
Andreas Deja is an animator whose contributions to animation have included several Disney leading or title characters, such as Scar from The Lion King.[2]
Information
Biography
Deja's first inspiration to be an animator came after a viewing of The Jungle Book when he was eleven. After graduating, he went into studying graphic design at the Folkwang Hochschule in Essen, Germany.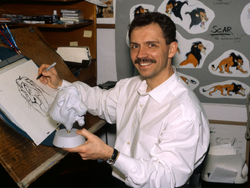 Deja was employed by Walt Disney Productions in 1980 after corresponding with Eric Larson, one of Disney's senior Nine Old Men of animation who ran the studio's training department.[3] In his early years as an animator, Deja sought assistance from seven of the Nine Old Men, all of whom were already retired.[4]
The first character Deja animated was Gurgi from The Black Cauldron. He later went on to animate several famous Disney villains, such as Jafar from Aladdin, Gaston from Beauty and the Beast, and Queen Narissa from Enchanted. He is also known for animating other famous characters, such as Hercules from Hercules, Lilo from Lilo & Stitch, and King Triton from The Little Mermaid. He recently animated Tigger from Winnie the Pooh.
While animating Scar, Deja remarked, "When I first began to animate this character, I remember thinking, 'How am I going to get all this humanized personality into this character without hands?' Hands are so important to expressing a character's emotions. Finally, I learned to concentrate on the overall body attitude, the angle of the head, and the facial expressions. Sometimes, very subtle things, like raising an eyebrow, let you show what the character is thinking."
The primary inspiration for Deja's performance and Scar's ultimate design came directly from Jeremy Irons.
"As a voice talent and actor, he was able to do so much with the dialogue and was a great springboard for the character," recalls Deja. "He had a way of playing with the words and twisting them so that they would come out very sarcastic and always a bit unexpected. I would watch him at the recording sessions and then run back to my desk because I couldn't wait to get started with the animation."
Some of Irons's physical traits also had an influence on Deja's design for the character.
"There was a darkness around his eyes that fascinated me and gave him an eerie look in his films. I wanted to keep that quality, so I gave Scar dark circles around his eyes and combed his mane as if it were slicked back."
Disney Animation Credits
| | | |
| --- | --- | --- |
| 1985 | The Black Cauldron | Animator: Gurgi, Dallben, and Fairfolk |
| | | |
| --- | --- | --- |
| 1986 | The Great Mouse Detective | Animator: Queen Moustoria |
| | | |
| --- | --- | --- |
| 1988 | Who Framed Roger Rabbit | Supervising Animator: Roger Rabbit, Bongo the Gorilla, Mickey Mouse, and Cameos |
| | | |
| --- | --- | --- |
| 1989 | The Little Mermaid | Supervising Animator: King Triton and Vanessa |
| | | |
| --- | --- | --- |
| 1990 | The Prince and the Pauper | Supervising Animator: Prince Mickey |
| | | |
| --- | --- | --- |
| 1991 | Beauty and the Beast | Supervising Animator: Gaston |
| | | |
| --- | --- | --- |
| 1992 | Aladdin | Supervising Animator: Jafar |
| | | |
| --- | --- | --- |
| 1994 | The Lion King | Supervising Animator: Scar |
| | | |
| --- | --- | --- |
| 1997 | Hercules | Supervising Animator: Adult Hercules |
| | | |
| --- | --- | --- |
| 1999 | Fantasia 2000 | Animator: "Host Sequences" Mickey Mouse and "Rhapsody in Blue" Flying John |
| | | |
| --- | --- | --- |
| 2002 | Lilo & Stitch | Supervising Animator: Lilo |
| | | |
| --- | --- | --- |
| 2004 | Home on the Range | Supervising Animator: Wesley |
| | | |
| --- | --- | --- |
| 2006 | Brother Bear 2 | Supervising Animator: Atka |
| | | |
| --- | --- | --- |
| 2009 | The Princess and the Frog | Supervising Animator: Mama Odie |
| | | |
| --- | --- | --- |
| 2011 | Winnie the Pooh | Supervising Animator: Tigger |
Gallery
External Links
References