Aaron Blaise
Biographical Information
Name

Aaron Blaise

Born

February 18, 1967

Birthplace

Burlington, Vermont

Career Information
Years

1990 – Present

Website
"

The biggest challenge for me on that film was just getting the locomotion right. Four-legged walks, trots, and runs can be tricky, especially in the transition from one to another. Getting something to look natural while still getting the acting across can be difficult.
—Blaise about The Lion King[1]

"
Aaron Blaise is an animator whose contributions to animation have included several Disney leading or title characters, such as young Nala from The Lion King.[2]
Information
Biography
Born in Burlington, Vermont, Blaise moved to Naples, Florida, with his mother and stepfather at the age of eight. Following high school, he attended the Ringling School of Art and Design, where he trained in drawing and painting. From the age of five, he expressed a strong affinity and desire to draw animals. As an illustration major in school, he aspired to create illustrations for natural history magazines, such as National Geographic and Smithsonian.
When recruiting season arrived at Ringling, Blaise got leads on two companies that were coming to visit, Disney and Hallmark. Deciding to focus his efforts on painting backgrounds, he prepared his portfolio to show to the team from Disney. The greeting card industry's loss became the animation world's gain, and Blaise won an animation internship at Disney.
In 1988, he and five other illustrators relocated to Los Angeles to study with mentor animators as part of an experiment to see if artists with strong drawing backgrounds but no animation experience could adapt to the animation world. Blaise was paired with star animator Glen Keane, and after a frustrating initial two weeks, things suddenly clicked, and he was hooked. Following the internship, Blaise was offered a position at Disney's Florida Studios, set to open the following year.
Since then, Blaise has served several key roles in animated films. He was an assistant animator on The Rescuers Down Under as well as a character animator on Beauty and the Beast, Aladdin, and Pocahontas. He later served as the supervising animator for Yao and the Ancestors from Mulan.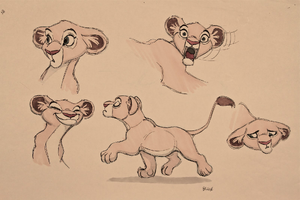 This film was initially difficult for Blaise, who found animating lions to be tricky. Despite his absences on the Africa trips, he got much inspiration from live animals that were brought to the studio for the animators' purposes.
"I didn't take any of the Africa trips for that film," explains Blaise. "We did all of our locomotion studies at the studio. Young and adult lions were brought in for us to sketch. It was lots of fun and proved to be a huge asset to both the design and animation processes."
Following his exposure to live animals, Blaise found himself better equipped to animate lions.
Personal Life
Blaise has a younger brother named Travis. He is the husband of the late Karen, and the father of two children, a son and a daughter.
Disney Animation Credits
| | | |
| --- | --- | --- |
| 1990 | The Rescuers Down Under | Animation Assistant |
| | | |
| --- | --- | --- |
| 1991 | Beauty and the Beast | Animator: Beast |
| | | |
| --- | --- | --- |
| 1992 | Aladdin | Animator: Jasmine and Rajah |
| | | |
| --- | --- | --- |
| 1994 | The Lion King | Supervising Animator: Young Nala |
| | | |
| --- | --- | --- |
| 1995 | Pocahontas | Animator: Pocahontas |
| | | |
| --- | --- | --- |
| 1998 | Mulan | Supervising Animator: Yao and the Ancestors |
Trivia
Aaron Blaise and his brother Travis both took part in animating The Lion King. While the older supervised animation for young Nala, the younger served as an assistant animator for Zazu.[3]
Gallery
External Links
References