A Real Meal


General Information
Composer
Lyricist
Performers
Length

1:45

Usage Information
Appearances
"A Real Meal" is a song composed by Beau Black for The Lion Guard. It premiered on July 21, 2017, in the episode "Ono and the Egg".
Use
In production
On July 21, 2017, "Ono and the Egg" aired for the first time, with celebrity chef Carla Hall assuming the role of Mpishi the hawk. She provided vocals for the episode's song, "A Real Meal". The character of Mpishi, including her food-themed song, was inspired by Hall's real-life occupation.
In the series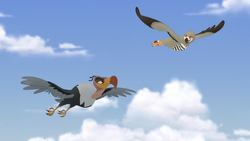 After a tense run-in with the Lion Guard, in which they order her to return to her own territory, Mpishi the hawk disobediently sweeps the Pride Lands in search of a meal. In doing so, she meets Mwoga the vulture, who admits to following her in the hopes that he can feast on the leftovers of her meal. This prompts the two to disagree over whether fresh food or carrion is better, which leads into the start of "A Real Meal".
The song assumes a surrealist style, as Mpishi and Mwoga have a friendly disagreement over their preferred style of meal. The majority of the song remains in this style, with Mpishi and Mwoga imagining feasting on their respective foods, until the last few verses, in which the art style reverts back to normal. At this point, Mpishi strikes a deal with Mwoga, offering to give him her leftovers if he helps her avoid the Lion Guard, to which Mwoga agrees.
Lyrics
Mpishi:
Nothing is more thrilling
Than catching your own food
But you gotta eat it right away
And that's my attitude
'Cause there's no doubt about it
Fresh food is the best
If it's been left out for days
Then give it to the rest
Yeah, I'm just telling you how I feel
That's what I call a real, real meal
A real meal
Fills your belly with delight
You know it right away
All it takes is one bite
That's a real meal
A real meal
Yes, it's real, real, real
So real
Mwoga:
Not to say you're crazy
But you're out of your bird brain!
Leftover food like carrion
Is all I'd ever take
So what if there's some rot
And some tiny, buzzin' flies?
Food that's sittin' in the sun
Is what I call a prize
I'm just telling you how I feel
That's what I call a real, real meal
Both:
A real meal
Fills your belly with delight
You know it right away
'Cause all it takes is one bite
That's a real meal
A real meal
Yes, it's real, real, real
So real
That's a real meal
A real meal
Yes, it's real, real, real
So real
Media